Mechatronics Robotics 2017-2018
VEX World Championships
April 25-28, 2018
Louisville, Kentucky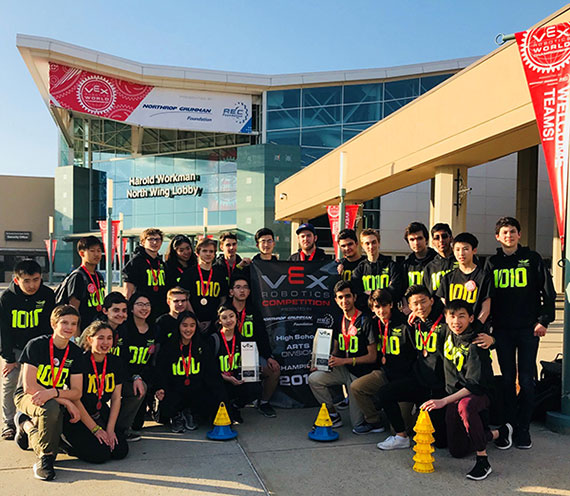 25,000 students from 40 different countries participated in the world's largest robotics competition – the 2018 World Championships.  The West Vancouver Schools Premier Mechatronics Robotics Academy qualified 3 teams who attended the competition in Louisville, Kentucky, April 25-28, 2018. These students represented our district along with the so many of the world's best builders, programmers and creative problem-solvers in competitive robotics.   All 3 teams, Team 1010 B, 1010 N and 1010 X, made their division playoffs.   Team B achieved a world record with the highest combined points score in a match.  Team N progressed to the Semi-Finals for their division.  Team 1010 X won their Division, won the Semi-finals and placed 2nd in the World in the finals to China and another Canadian team from Oakville, ON.
---
Watch the live feed and cheer for our 3 teams in Kentucky. The new VEX game will be announced at this event… you'll find plenty of streaming video here: https://livestream.com/vrctv1
---
Global News Coverage
April 16, 2018
---
VEX tournament
April 7, 2018
BCIT
See the coverage from the Vancouver Sun here.
---
BC VEX Robotics Championships
March 3rd, 2018
Delta, BC
Team 1010 won three spots to this years VEX World Championships in Louisville Kentucky, USA:
1010A 1010B 1010G 1010K 1010N 1010X 1010Z all made the playoffs.
1010X and 1010Z were alliance captains.
1010X 1010N 1010B were the eventual tournament winners, taking 3 matches to defeat a very strong alliance of 2U 2S (Gladstone) and 7842F (Nides). The final match of three saw a total of 243 points.
1010N also won the Build Award.
1010X was the only undefeated team during the qualifier, and also ended up with 601 sp in 8 matches. They also won the Excellence award.
---