iDEC (Inquiry-based Digitally Enhanced Community) Program (Caulfeild Elementary)
WHAT IS iDEC?
In September 2011, Caulfeild Elementary launched a new program of choice –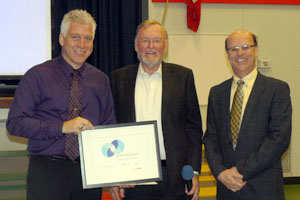 iDEC: Inquiry-based Digitally Enhanced Community. This innovative, inclusive program is for students from Kindergarten to Grade 7. It aligns three emerging themes in education: digital immersion, inquiry-based learning and Soft Skills (including self-regulation, collaboration and creative thinking). The framework ensures that individual student learning processes are supported by digital tools and current pedagogy.
The iDEC program is unique among school districts in Metro Vancouver.
HOW DOES iDEC WORK?
The innovative features of iDEC include:
age-appropriate digital tools that are embedded into daily learning: Smart Boards for Kindergarten and Grade 1, iPads for Grades 2 and 3, and laptops for Grades 4-7
a technology platform focused on supporting learning and assessment processes
flexible time schedule
recognition of learning occurring outside the timetable
collaborative staff
teachers as facilitators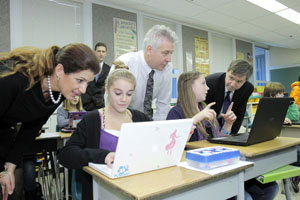 Our structure was created by researching the numerous inquiry-based models operating in schools around the world, such as; the Calgary Science School, International Baccalaureate (IB), High Tech High and Understanding by Design (UbD).
Our Inquiry Cycle found here serves as the guiding framework which teachers use to plan and implement their classroom and individual student inquiries.
We developed a three-year implementation plan. Year One was devoted to creating the model; Year Two was dedicated to evaluating the model; and Year Three will be used to refine the model.
All teaching at Caulfeild iDEC is based on current best practice, provincial learning outcomes (PLOs), well-established thoroughly researched social/emotional constructs and age-appropriate digital tools.
As well, we continue Caufeild's tradition of focusing on academic excellence, student leadership opportunities and the development of citizenship skills. Combined with our strong music and athletic programs, Caulfeild iDEC provides students with a well-rounded educational experience.
WHY iDEC?
West Vancouver Schools is dedicated to putting into practice the latest educational research findings and emerging digital tools. As educators and school leaders, we partner with teachers who are willing to embrace the challenge of aligning practice with research. Generally, this happens within pockets of enthusiastic teachers but with the development of "choice schools", WVS staff members have had the opportunity to embrace school-wide change. District programs of choice currently include French Immersion, International Baccalaureate, Montessori and now iDEC.
The Caulfeild staff are aligning provincial learning outcomes (PLOs) with current thinking and research around curriculum delivery using an inquiry-based model illustrated here, the purposeful teaching of Soft Skills (including collaboration, critical thinking, empathy and self-regulation) and the new realities and opportunities of the digital world.
RECOGNITION FOR iDEC
In November 2011, then-Minster of Education George Abbott visited Caulfeild iDEC to witness the program first-hand and to learn more about the personalized educational experience iDEC provides for students.
Ken Spencer Award
In 2011-2012, Caulfeild iDEC received an Honourable Mention from The Ken Spencer Award for Innovation in Teaching and Learning. In awarding Caulfeild iDEC this honour in its inaugural year, they gave the program a great boost, saying "iDEC is proving to be a model of school-wide implementation of innovative practices and learning. Through collaboration and professional practice, the environment for students has shifted dramatically as the three themes of digital immersion, inquiry-based learning and self-regulation enhance the learning experience."
Vancouver Sun Article
Sept 6, 2012
"West Van students learn to navigate social media through 'digital literacy' programs"
For more information:
Nathan Blackburn
Principal – Caulfeild iDEC
Phone: 604-981-1209
Email: nblackburn@wvschools.ca