Homecoming: Full circle
September 20, 2017 - 7 minutes read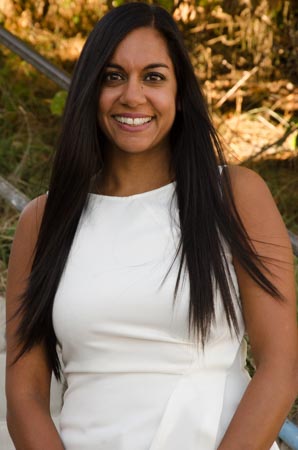 For many educators in B.C., last year's restoration of government funding for the teachers' contract offered greater flexibility around where to work, allowing many to choose districts closer to home. In West Vancouver, we have welcomed several new staff and administrators, including Alysha Karsan, who took on a fresh new role here this month, and is now working side-by-side as a colleague with many of her former teachers.
Alysha spent 17 years in the district as a student, graduating from Sentinel Secondary school in 2000. Like every graduate, she went on to find her own path, and like the vast majority, that led to post-secondary school. Fast forward 17 years from high school graduation, and Alysha is back in West Vancouver — this time as a newly hired teacher and Vice-Principal at Chartwell Elementary school, and as the mother of her own West Vancouver Schools student, now in Grade 1.
When she graduated, Alysha did not know that she would eventually choose teaching as a career. She had volunteered extensively during high school then took on a paid job as a certified Level 1 and 2 coach in gymnastics and trampoline at the West Vancouver Recreation Centre, both in the summer and year-round. But when she left school, she took science courses, with the intent of pursuing a career in pharmacy or medicine.
"Growing up, everyone seemed to be focussing on having their children move into careers as doctors, lawyers or accountants," says Alysha. "These things were also instilled in me, but the reality is that only a small proportion of people are going to continue on to do those things, once they see what's out there, and what's emerging – I wanted to find my passion and turn that into a career."
By the end of the first year, Alysha knew she would not be going down that path.
"I switched into the Faculty of Arts, majoring in English with a minor in Developmental Psychology. I thought about my experience as a coach, which I had really enjoyed, and thought to myself 'this [teaching] fits!'"
Alysha obtained her Bachelor of Arts and a Bachelor of Education with a specific focus in curriculum and development at SFU, and followed that up at UBC with a Master of Education, specifically focussed on Self-Regulated learning. Her cohort was part of the Educational Counselling Psychology and Special Education program.
Alysha, whose first placement was in the New Westminster School District teaching a group of Grade 8 and 9 at-risk students, is passionate about working with students who struggle or those living with disabilities. She says that working with students who need additional support is actually one of the easier aspects of her job, since this is the area where she has invested most of her education and experience.
"I learned so much in that first position, and still keep in touch with some of my students," says Alysha, who was quickly promoted into an administrative role as a District Resource Teacher based at New Westminster Secondary School. In that role, Alysha created a tailored curriculum and administered the Fast Forword program, training staff, administrators and students at the elementary, middle and high school levels, district-wide. Prior to her move back into West Vancouver, Alysha served as Vice Principal and Resource Teacher for two years at Queensborough Middle School.
"I am a product of West Vancouver Schools," says Alysha, who is excited to be back in her home community, and about the future opportunities in the district. "It has always been my hope that I would be able to return to West Vancouver Schools to continue my passion working with children in teaching and administration."
While Alysha has only been a few weeks on the job, she was preparing well before the start of the school year. Late last year, she visited Chartwell to meet staff and made great connections with everyone.
"The school is such a caring and supportive community, filled with passionate teachers and excited students, so it has been very easy to fit right in," she says. Some of the colleagues that she has worked with in the past are also on staff at Chartwell, further cementing her decision to work closer to home.
Alysha says that teaching is one of the most challenging and rewarding career choices, and that educating the mind musn't come at the expense of educating the heart.
"We have the ability to help shape the minds of the future, while also caring for and nurturing our students," she explains. "Educating the heart is a vital piece of learning as well, and it can often be forgotten when we become focussed on only the academics."
Alysha is also a very active person, and teaches several blocks of Physical Education in addition to her classroom teaching and administrative responsibilities.
"I enjoy sports of all kinds, and have grown up snowboarding, playing golf, tennis and various other sports, which I am getting back into now with my daughter," says Alysha. "I especially enjoy running the sea wall in West Van, as well as yoga, whenever I have the opportunity."
Alysha spends the balance of her free time with her daughter, and loves to travel. She hopes to do a lot more of that together with her daughter, to expose her to other cultures and experiences.
It's a pleasure having you on board, Alysha! Welcome back to the family at West Vancouver Schools.