West Vancouver Schools honoured for community partnership
September 28, 2016 - 2 minutes read
September 29, 2016
District recognized by BC Centre of Ability for innovation in self-regulation
WEST VANCOUVER –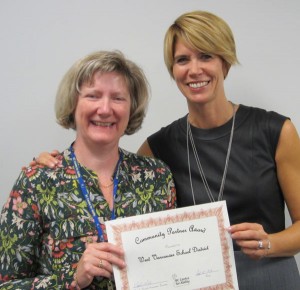 The unique lens on learning provided by the district's self-regulation team was recognized by the BC Centre for Abilities (BCCFA) on September 27 with a community partnership award. The award was accepted by District Early Learning Principal Sandra-Lynn Shortall from Occupational Therapist Moray McLean at the organization's Annual General Meeting.
The award was presented for the district's work around self-regulation in schools, which is used in classrooms across the district to help children learn how to meet life's challenges. The self-regulation approach uses tools and strategies that support optimal conditions for learning, mental health and well-being and social engagement among children.
Occupational therapy, in addition to foundational understandings of human development, behaviour communication and relationships are important components of the district's self-regulation team, which provides a special lens on classroom learning that makes a difference for all students.
"Regulating and encouraging movement is a huge part of reframing the educational experience for students," says Shortall. "It's often the no cost/low cost things that we can do that have a big impact on student learning, and having an occupational therapist 'lens' on classrooms in the district has often had an immediate positive impact on both teaching and learning."
Self-regulation promotes healthy development in children of all abilities, equipping children with the skill and ability to rise to their full potential.
"West Vancouver Schools attracts attention locally, nationally and internationally for the work being done in the area of self-regulation," said McLean. "The contribution of Occupational Therapy is viewed as integral to this initiative, and has evolved to offer different levels of professional collaboration, inviting families into the learning process, supporting optimal learning environments in schools and collecting data on outcomes."
-30-
For more information:
Beverly Pausche, Manager of Communications and Community Engagement
West Vancouver Schools
604-828-8045