Welcome to Kindergarten 2015 Events
April 28, 2015 - 4 minutes read
Is your child starting Kindergarten in September 2015?
West Vancouver Schools is pleased to invite you and your child to "Welcome to Kindergarten" (WTK), a FREE Kindergarten orientation program offered at each of our primary and elementary schools this Spring 2015.
Please note that you must apply to register at your preferred school(s) prior to the WTK event. Kindergarten French Immersion programs, along with many other programs of choice, have now completed their admissions process.
Click here for schedule of WTK events »
When can my child begin Kindergarten?
Children may begin Kindergarten in September of the calendar year in which they turn five years old (born in 2010 for the 2015/16 school year).
Please register to attend a free Welcome to Kindergarten event
Please register to attend a free Welcome to Kindergarten event by contacting the West Vancouver public school of your choice via phone, email, or in person.
West Vancouver School Directory – click here for school addresses and contact information
West Vancouver School Locator Tool – click here to locate a West Vancouver public school in your neighbourhood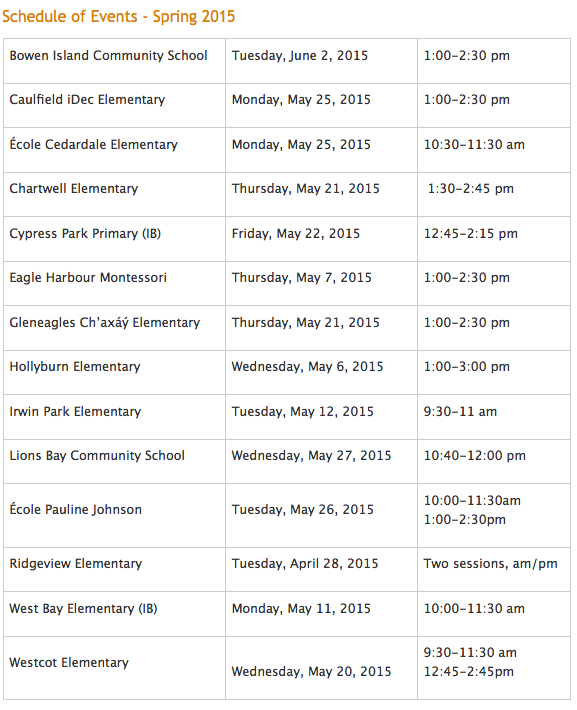 Families will be invited to the Welcome to Kindergarten event at the school the student will be attending in September. If you have any questions, please contact the school office.
What is Welcome to Kindergarten?
Welcome to Kindergarten (WTK) is a FREE Kindergarten orientation program sponsored by The Learning Partnership, a national charitable organization dedicated to championing a strong public education system in Canada.
The goal of Welcome to Kindergarten is to provide pre-school children with the resources and experiences to begin their formal education with a foundation in early learning and literacy that is nurtured in their home.
Before starting school, children across Canada are given preparatory resources and experiences to position them for school success and lifelong learning. Parents/caregivers and their children are invited to attend a workshop at their neighbourhood school where they receive early learning and literacy resources as part of the Welcome to Kindergarten Program and learn strategies for using the resources with their child.
What does this look like in West Vancouver Schools?
The Learning Partnership provides training for school principals, Kindergarten teachers and community partners on implementing the WTK program with parents and children.
Resources for WTK Bags and family orientation workshops are delivered to schools.
At Kindergarten registration, families are invited to return to the school to attend a WTK orientation session(s).
School staffs and their partner community agencies work together to plan and deliver the WTK orientations and extension or follow-up activities.
At the WTK orientation workshops, families receive the Welcome to Kindergarten bag of early learning resources.
What happens at a Welcome to Kindergarten workshop?
Parents/caregivers and children are invited to attend a Welcome to Kindergarten orientation at their neighbourhood school, where they receive the early learning resources in the Welcome to Kindergarten Bag and learn strategies for using the resources at home. At the orientation, families connect with Kindergarten teachers, school resource personnel and staff from community support agencies.
What's in a Welcome to Kindergarten Bag?
magnetic letters and numbers
templates of upper and lower case letters and numbers 1-10
concept, counting and story books
crayons and pencil, glue stick, round end scissors
a scribbler and coloured construction paper
parent information pamphlet, Have Fun and Help Your Child Get Ready For School (translations available in Arabic, Bengali, Chinese, Cree, English, Farsi, French, German, Gujarati, Hindi, Italian, Korean, Ojibwa, Pashto, Polish, Portuguese, Punjabi, Russian, Somali, Spanish, Tamil, Tagalog, Turkish, Ukrainian, Urdu, Vietnamese)
playdough – provided by school
More information