Sentinel grad spreads message of support and hope beyond her school
October 22, 2015 - 11 minutes read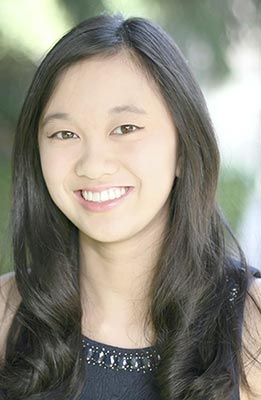 Lauren Yip, a 2015 Sentinel graduate, is a soft spoken, brilliant young woman with an endearing smile. But her most striking qualities are her passion for giving back to her community, her self-confidence and her ability to make a lasting impression.
Bullied in elementary school while enrolled in an independent school, when Lauren moved to high school in West Vancouver, she took matters into her own hands to make positive change in her own life and those of her fellow students. Her passion for helping others continues to this day, and earned her a service award, Schulich Leader and Loran Scholar nominations and many scholarships when she moved on to UBC this fall. Offered the Gordon Shrum entrance scholarship at SFU – which would have paid for her entire undergraduate degree – she decided instead to attend UBC for the breadth of programming.
Lauren, together with Sentinel teacher David Gibson, co-founded staycybersafe.org, based on a mission 'to inspire true kindness in the online world, promote cybersafety and transform the lives of bullies and the bullied – one by one'. Launched in December, 2013, the message has reached thousands of students, parents, teachers and senior administrators, as Lauren began to share her personal story and provide support and advice to students at every grade level.
"I have a lot of personal experience with bullying behaviour, most of it in a private institution, but some of it during my earliest years in high school," says Lauren. "A lot of people don't realize that their words and actions online have a lasting effect on a person. While I didn't contact the school initially, I know now that was because I didn't know enough about how to stop what was going on."
Lauren, who played classical violin and was a concert master with the Vancouver Symphony Youth Orchestra while in high school, practiced for up to 15 hours a week and was enrolled in the Super Achievers program. While supported at school and at home, she says she was fortunate. Once the problem had been recognized and corrected, she began to wonder what someone might have done in her place if they were struggling with other issues, going through depression or lacked a support network.
"That's when the idea to do something more about the issue cropped up for me – how to help others deal with these issues – whether they were the target or the perpetrator – and give something back to the school and staff that had given me so much," explains Lauren.
Getting the group going wasn't an easy job, especially for a senior student focusing more than ever on her academics while continuing her work with the Vancouver Youth Symphony Orchestra.
"I asked a lot of my friends and they didn't want to get involved because they feared being targeted themselves," says Lauren. "I approached Principal Michael Finch, and he not only supported expanding my campaign, but also suggested ways to reach out."
Lauren got permission to hand out brochures to students in grades 9 and 10, created and distributed posters and got a note inserted into report cards to increase awareness among parents and students. She and co-founder David Gibson did a radio interview on CKNW News 1130 in 2014 that helped expand awareness beyond the school. The site encourages students to pledge to stay cybersafe, uses social media to spread messages of hope, offers practical advice on appropriate online behavior and lists a number of resources that students and families can access if they find themselves in the midst of a bullying situation, whether on or offline.
"With the growing importance of online tools, education on issues like this is incredibly important," says Lauren. "The Bring Your Own Device initiative across West Vancouver Schools is a really positive thing, and there has been a lot of thought put into using technology responsibly. Cybersafe offers yet another tool for the community to access as schools adopt digital technology in the classroom," says Lauren.
Asked how she thinks online bullying is different from other types of harassment, Lauren says she thinks that people feel somewhat shielded behind a layer of protection when they use devices – much like some drivers do when they're in a car.
"It's so important to know that no matter where you are and how you are interacting with people, you need to be kind to people, monitor yourself and others, and really keep conversations in line with acceptable public norms for behaviour."
More recently, Lauren has continued with her work and passion for music beyond graduation. She was successful in organizing proclamations in support of World Mental Health Day from the communities of West Vancouver and Whistler, and helped expand awareness of the 'Light Up Purple' event, held on October 10. Lauren works closely with the Amanda Todd Legacy Society and plans to strengthen those ties in the future. This year, she has become an Ambassador for the organization, and hopes to carry her anti-bullying message beyond the school she loves. She's also joined the UBC Chamber Orchestra, and has fond memories of her performances at the Chan Centre and the Orpheum as a member of the Vancouver Youth Symphony.
"Teacher David Gibson, who continues to support the site, has been an integral part of the progress and success of this program," says Lauren. "Nothing would have been the way it is now if we hadn't had that conversation about bullying prevention."
The support she got from her teachers and the school was a pivotal experience for Lauren, one she says made a huge difference that will remain with her for life.
"They have taught me through my 5 years there the strength to persevere, and to spearhead change in whatever I do. Having been there during my high school years has been a life-changing experience in so many ways, from my personal growth to my anti-bullying campaign."
To stop bullying in its tracks, Lauren has this advice for students:
Don't be a bystander
Don't try to escalate the situation by shooting back mean remarks
Don't threaten your bully or tell them you will report
Do try and block the person on your account
Take a screenshot or photos for evidence to support ongoing conversations
Speak to a teacher or principal about your concerns – often, parents and peers will take it more seriously if it's coming from the school
Take note of any major shifts in demeanor or the personal habits of close friends – and make sure you reach out if you suspect they are having difficulties of any kind
"The rule of thumb is 'watch your words' – if you wouldn't say something in front of your parents, grandparents or principal, why would you say it to someone else? Dealing with others is about respect – and what you say or how you behave should not be different just because you're talking to a peer," explains Lauren.
For teachers, she says that it's absolutely critical to let kids know you can be approached if they see or experience any negative behavior.
"Kids feel very exposed and vulnerable. They are afraid to have that conversation, and it's important for them to know that teachers are a safe place to go when things are not as they should be."
Lauren is currently completing a Bachelor of Science degree and will major in biology or immunology and is concurrently enrolled in a Master in Business Management through the Sauder School of Business. She will graduate with both degrees in 4.5 years, and is considering a career in medicine.
This is one grad who knows the meaning of respect, and we know she has so much to offer beyond graduation. Lauren has left her school an even better place than it was, and that's a legacy that we hope you carry with you as you embrace your future and continue helping those in need.
For more information on Lauren's project, please follow her posts on Twitter or visit the Sentinel Cybersafe website.