Passion for social justice inspires winning speech
June 20, 2017 - 7 minutes read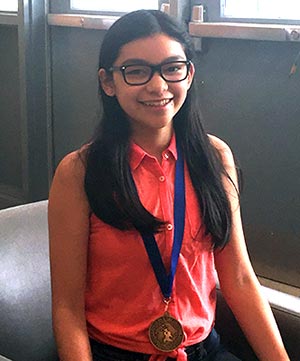 Sierra Lee, currently in Grade 7 at École Cedardale, is very passionate about social justice issues. That enthusiasm came through for her recently, when she prepared for a speech on gender inequality — and won first place in her grade and category in the provincial concours d'art oratoire (CAO), a French language public speaking competition, sponsored by Canadian Parents for French (CPF).
It's obvious that she's a leader, just by chatting casually with her about her feelings in anticipation of the big event, because she tackled the assignment – which initially involved every Grade 6 and 7 student at both French Immersion schools – by immersing herself in the subject matter in order to raise awareness.
"We had been learning about stereotypes in class, and after I learned about the issue [of gender inequality], I became really passionate about the topic," says Sierra. "I was a little nervous, yes, but I actually think that I was pretty calm, because my goal wasn't to win but to get my message out, and to educate other students in BC and also judges and parents about my topic."
"Sierra was bitten by the CAO bug last year when she placed second at the district competition," says her teacher, Kristina Hayes. "From that moment on, she was determined to win in her Grade 7 year. Her hard work and motivation have paid off. Sierra has always been empathetic to the needs of others, but as Cedardale continues on our IB PYP journey, and as we integrate SOGI education and First Peoples' Principles of Learning, students like her are provided with new avenues for self-initiated action, acquiring meaningful skills along the way."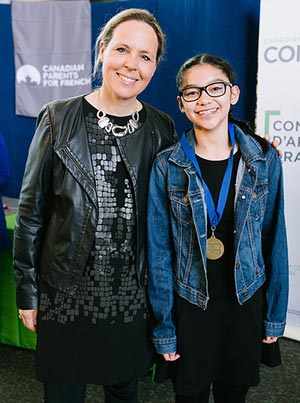 Sierra prepared a 4.5 minute speech and practiced delivering it often. She also reviewed the questions she would be getting and prepared by writing down her answers, doing additional research and watching TED Talks. Her first test was in class, followed by the district competition held in the Kay Meek Theatre. Her class presentation was singled out as one of the top three deliveries, voted on by her own classmates. Judges at the district competition then nominated her to represent the Grade 7 Early French Immersion entry for the school, where she presented against about a dozen other students from around the province in her grade and category. About 10,000 students from across BC competed at district events and just 264 made the finals.
"This was the first year that I became really passionate about social justice, and I'm motivated to get more involved after my speech," says Sierra. "I might like to present my speech again, because I think that public speaking is a great way to educate people and show what you're passionate about — public speaking is a great way to translate that passion."
Sierra was not the only one to bring a medal home from within the district last month: École Pauline Johnson's Baran Farhangnia took home 2nd Place in the Grade 6 Early French Immersion category, and PJ Grade 6 student Sam Khoshnevis and Iris Sun, in Grade 7, were also among the 2017 provincial finalists.
Sierra, who commutes to her school from the Lonsdale area of North Vancouver, has been part of the École Cedardale community since her pre-school days. She recently completed her IB Exhibition project, which was on LGBTQ+ rights — another social justice issue she says is important for further advocacy and awareness.
Sierra is very complimentary about her school and its supportive teachers, where she truly feels she is part of a community. Although she always enjoyed the freedom to explore a subject in depth, since École Cedardale became an IB school, it's really allowed her to hone in on the things that she enjoys the most.
"I've always felt good about the way we are taught at the school because it makes me really passionate about things, especially since becoming an IB school. We are exposed to so many ideas and important issues, and have had a lot of exposure to things like First Nations cultures."
Her trip to Quebec this year, which is available to all French Immersion students in Grade 7, solidified her growing appreciation for bilingualism.
"Being bilingual is a great advantage – I've realized how lucky I am to speak French, and to be able to use my second language in an area that's so culturally rich," explains Sierra. "I spent a week there, learning a lot of the area's military and religious history, taking part in winter sports like snowshoeing and dog-sledding, took part in Carnavale de Quebec and visited a First Nations village."
At this point, Sierra imagines that she'll find herself working in some kind of humanitarian capacity, and is now looking for ways she can get more involved. High school at Sentinel Secondary, where she will continue her bilingual education, will offer her many opportunities to get involved in humanitarian causes.
We wish you much success – and many new discoveries, as you head to secondary school this fall. Congratulations on your win!