Hub of the school
September 28, 2016 - 7 minutes read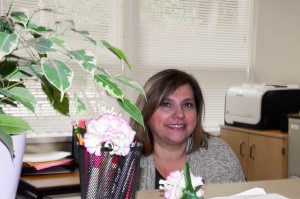 It is a rare, quiet moment at Gleneagles Ch'axáý Elementary school, where Maria Pistilli works at her desk, relaxed and ready for the next office visitor or request from staff earlier this week. The ability to apply a bandage and soothe a frightened child, while taking a registration for another or answering a busy switchboard, is just the beginning. Five years into her current job, Maria's role as the Administrative Assistant in the main office is a central one in every school.
Maria's ability to adapt to rapidly changing situations has been honed over the past 13 years in various positions, and has helped her become well respected among her colleagues at the school. Whether you're a district manager, parent, student or teacher, if you need to know something about school operations, Maria is your first stop.
Maria started as a teaching assistant at Irwin Park and Cypress Park elementary schools. She would later work at Hollyburn as the Administrative Assistant, and moved to a high school setting in 2011 at Sentinel and Rockridge high schools. For the past five years, she has remained in her current role at Gleneagles Ch'axáý, and has worked for the past two years over the summer months for the summer learning office.
"The roles differ vastly when working in the elementary schools or the high schools as your interaction with students is very diverse," says Maria. "In elementary you can be helping a 5-year-old student in Kindergarten who may have scraped a knee, or is feeling ill, may be lost and can't find their classroom, whereas in high school you can be helping a former student who needs a transcript for university. You need to adapt to the different ages and nature of students and communicate accordingly."
Those scraped knees get special attention, since Maria previously worked in the medical field as an administrative assistant, then earned a diploma as a Medical Office Assistant from Capilano University.
"I have always enjoyed working in a diverse atmosphere, and a school office is definitely that," says Maria. "I enjoy working with staff and students, learning new programs and getting to know new people."
Her days are full, and she says that most of her friends and family probably don't know how much she gets done in a day.
"A typical day can include helping students with scrapes and bumps and applying bandages; issuing cheques, paying invoices and managing accounting records; sending home notices or e-bulletins to parents, answering phone calls, assisting with registrations for new students, including enrolling international students, setting up on-line systems such as payments for field trips, online parent teacher schedules and supporting staff with a multitude of tasks and requests."
Maria says that watching students grow and progress, whether they have talents socially, musically or academically, is one of the most rewarding aspects of her job. And it's always nice when students let her know that they appreciate her help, when they smile and wish her a good day, or verbally express that her time is valued.
Having the ability to be flexible and adaptable to daily changing needs can be a challenge in an environment with multiple deadlines and requests. Maria excels at prioritizing those things daily, but says it's not always easy.
"I work closely with many different groups – our school administrators, staff, students, the Parents Advisory Council, many departments in our district, and parents," explains Maria. "People may not realize just how diverse all of these relationships are – I need to be able to communicate on different levels with many different groups."
Maria really values the community feel of the school, and with five years on the job, she's come to know many local families very well – she is especially happy to see younger siblings come in to register for Kindergarten.
"It's to have that community feel here, where mostly everyone knows each other," says Maria. "GE's location, nestled close to the water and ferries is very picturesque, and has a very welcoming environment."
While most of the families with children attending the school live in the small community of Horseshoe Bay, the school includes families who commute from Eagle Harbour, Lions Bay, Seascapes, Furry Creek and even Squamish.
"I am always amazed by the leadership that students have," Maria says. "If they are given a task, they will take it on full force with lots of energy and enthusiasm. For example, we have grade 5 students who run a soccer club during lunch for the primary students (K to 3). They plan activities, organize games, and encourage students to have fun and be active.  They do this independently and without direction from adults. Our Grade 7 students take on fundraising projects, and come up with creative ideas to support their goals."
Maria has seen many new people come to work for the district over the course of her 13 year career. She says that because the district is always evolving and looking for ways to improve its systems, those that are open to learning are well positioned to excel on the job. "And don't be afraid to ask your colleagues for help – we are lucky to work with a great group of people."
Maria is a mother of two adult children, aged 22 and 24. When she's not in the office, Maria enjoys spending time with them, watching movies and hiking the North Shore trails.
Few roles in the district are more 'front line' than yours! We are grateful for your dedication and support, Maria.