Parent Resources for Continuing Learning at Home
Welcome videos for students going into Grade 8 in September 2020
Return to in class instruction
Parent education session #1
Digital Platforms 101. Discover more about West Vancouver Schools' main digital platforms such as Google Classroom, Google Meet and Fresh Grade.

The Ministry of Education has developed a website called Open School BC – Keep Learning which includes suggestions for parents and caregivers to keep their children learning at home during the COVID-19 pandemic.  The site offers a collection of resources including:
Learning From Home
Everyday Learning Activities
Resources
Keeping Healthy

The West Vancouver Memorial Library offers several digital resources and virtual programs for youth such as:

Story Time – Join on Instagram every weekday at 10 am for live Storytime with Youth Librarians
Kids StaffPick! – Youth Librarians give their book and resource recommendations weekdays at 2 pm on Instagram
Tell Your Story Anthology – Young writers and artists are invited to create and share one page pieces
Battle of the Ebooks – Kids can vote for their favourite ebook

Libby, by Overdrive – A selection of ebooks and audiobooks
Solaro – Practice tests and questions in all school subject for Grades 3+ aligned with the BC Curriculum
Tumlebook Library – A place for younger readers to listen to popular stories
Kanopy Kids – Streaming video service that includes read-aloud stores, early years favourites, English language learning and STEM videos
RBdigital Magazines – Popular magazines for all ages to read on a tablet or computer

Impact North Shore (formerly The North Shore Multicultural Society) continues to support parents with children in school during this uncertain time of COVID-19. While the Impact North Shore office has physically closed, Settlement Workers in Schools and all staff continue to provide services online and by telephone.

NSMS SWIS Services Directory:
View English version
View Chinese version
View Farsi version
Keep Learning At Home
Click the button below to see a list of approved digital student resources.
BC Ministry of Education
Frequently asked questions on Continuity of Learning

Child and Youth Mental Health – The Ministry of Children and Family Development Child and Youth Mental Health Team on the North Shore continues to proactively respond to COVID-19 to ensure the health and wellbeing of children, youth, families and employees, while continuing to provide vital services. CYMH is continuing to offer full services to children, youth and their families through virtual means. CYMH clinicians are continuing counselling sessions with clients through phone and a secure virtual application ZOOM that has been approved by our ministry and has multiple security features, including password protected meetings. Intake services will also continue by virtual means.  Anyone interested in CYMH services can call 604-904-4300 Monday to Friday between 9am and 4pm (closed during 12-1pm) to request an intake session. They will be asked initial details regarding contact information and then will be contacted by a clinician to set up an intake appointment over the phone.  Our intake days will continue to be on Tuesdays and Wednesdays during our office hours.
---
Crisis Centre – is offering free online courses for adults and youth to manage stress during the current health crisis.
---
Family Services of the North Shore – offices are closed to in-person programming and support. Current clients will be supported by telephone and day to day operations maintained by staff working remotely. There is also FREE Counselling Support for up to 6 weeks being offered. Call 236-982-9871 (local call) Monday to Friday from 9am-5pm to speak directly with a counsellor. For a list of other programming available, please see the latest update https://www.familyservices.bc.ca/covid-19-support/ Main Website: https://www.familyservices.bc.ca/ Phone: 604-988-5281
---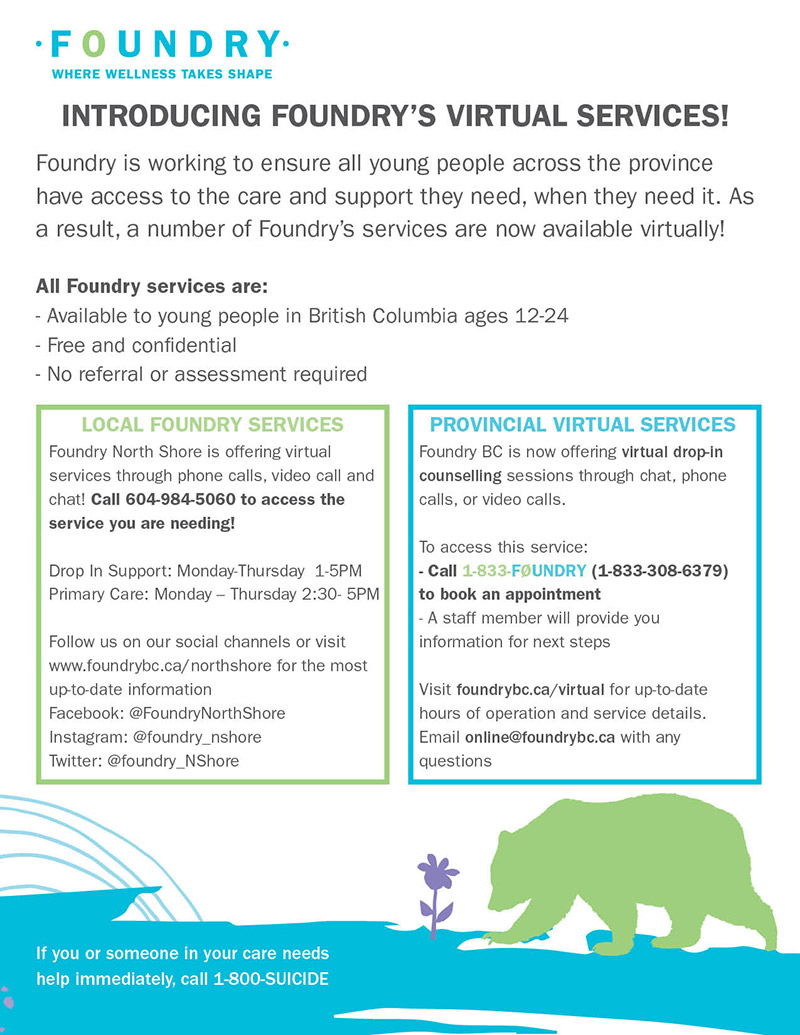 Foundry (ages 12-24) Services Changes (as of March 23, 2020)

Drop-In Support : The drop-in care team is still available to support you via telephone during regular drop-in hours (Mon – Thurs 1 – 5pm). Instead of coming to Foundry, please call 604 984 5060. Your call will be forwarded to a drop-in care team member. If we're experiencing a large number of calls, you will be given an approximate time when a care provider will call you back.

Primary Care Drop-In Clinic: Primary care and medical services are available via telephone during regular drop-in hours (Mon – Thurs   2:30 – 5pm). Instead of coming to Foundry, please call 604 984 5060. Your call will be forwarded to the primary care team. If your concern requires a physical exam, an appointment will be scheduled for you.

Peer Support: If you're interested in speaking with a peer support worker, please call 604 984 5060 during drop-in Support hours (Mon – Thurs  1 – 5pm). The peer support worker will call you back.

Parent Navigation: If you'd like to speak with our Parent Navigator, please call 604 984 5060 during drop-in support hours (Mon – Thurs    1 – 5pm).  The parent navigator will call you back.

Psychiatry: Scheduled psychiatry appointments are taking place via telephone. The Dr. will contact you as scheduled.

Hospital Liaison: Service will be intermittent until further notice.

Urgent Response (formerly iYOS): Reduced service available. Call 604 230 0389 Monday – Friday 9am – 7pm.

Groups: All groups have been suspended until further notice.
---
Hollyburn Family Services – head office is closed, counselling services are provided by telephone or Zoom conferencing. Please call the main office line 604-987-8211 to be directed for assistance. Here is their COVID-19 update
---
Kids Help Phone –  the federal government has increased funding to the Kids Help Phone. https://kidshelpphone.ca/ The website has access to support for children and youth 24/7 by text, phone, or live chat. In addition, there are resources regarding emotional support during the COVID-19 pandemic.
---
Shared Care – Doctors of BC – have created a document called Managing Anxiety & Stress in Families with Children and Youth During the COVID-19 Outbreak
---
Some online resources and ideas: 

BC Council for Families Resources and Ideas to support parents and families during the COVID-19 response

CASEL (Collaborative for Academic and Social Emotional Learning): resources for parents and educators for dealing with COVID-19  https://casel.org/covid-resources/

Dalai Lama Center Heart-Mind Online Resources https://heartmindonline.org/resources are Social Emotional Learning resources for educators and parents. They are specifically creating resources for our current situation like this one for joyful movement breaks

Human Early Learning Partnership (HELP-UBC) A consolidation of selected resources and publications to help navigate COVID-19 in Special Issue: COVID-19, April 2020

WE Schools@home free tools and resources that have an emphasis on well-being, social and emotional learning, service-learning and fostering resiliency.  https://www.we.org/en-CA/our-work/we-schools/at-home/

EASE at Home offers helpful tips for parents, like how to teach children calming breathing techniques or use structured games like scavenger hunts to build routine in a way that's fun: https://www2.gov.bc.ca/gov/content/health/managing-your-health/mental-health-substance-use/child-teen-mental-health/ease

The Ministry of Education's Erase strategy was expanded to include mental health: https://www2.gov.bc.ca/gov/content/erase

The Government of BC – For more information about available child and mental-health supports and contact information, visit: https://www2.gov.bc.ca/gov/content/health/managing-your-health/mental-health-substance-use/child-teen-mental-health/mental-health-intake-clinics

The Ministry of Education's new Keep Learning site has resources for parents to support positive mental health under the "Keeping Healthy" tab: https://www.openschool.bc.ca/keeplearning/