Digital Resources for Students
Apple iOS update – connection issues to SD45Wireless
Apple has released a new security feature in their latest version of iOS and iPadOS. This feature is not compatible with our network (SD45Wireless), and must be disabled.
If you have updated to the latest version of iOS, please make sure you disable this feature. 
To disable:
Open the Settings app, then tap Wi-Fi.
Tap the information button next to SD45Wireless.
Tap Private Address to disable
You can find more information here: https://support.apple.com/en-us/HT211227
Welcome videos for students going into Grade 8 in September 2021
District Approved and Managed Resources
Other Recommended Resources/Apps
Tech
Technovation Families – Artificial Intelligence activities – requires a sign-in
Machine Learning – Sign in required. A good site for kids who have some basic coding.
Tynker – This is a great site for kids who want to code as it has lessons in block-based coding as well as Python, Javascript and Web Design. Some parts of the site and free, some require a paid subscription. It can be used online but there is also an app.
Hour of Code – This site has tons of bite-sized coding experiences for every age and ability! No sign in required.
Code.org – This site is associated with Hour of Code but students can create accounts and learn through a variety of courses, designed to take 20 or more hours to complete.
Scratch – Scratch is the original block-based coding site. It has recently been upgraded and is very versatile! Students should create accounts if  they want to save their work. Some intermediate students will already have school accounts.
Scratch Jr – A free Apple and Android app for the younger students who want to learn coding (pre-school to Grade 2)
Numeracy
Khan Academy – a K to 12 learning resource for Math and other subjects
Prodigy – Gr. 1 to 8 gamified Math learning site
Engineering
Technovation Design Challenges – Lots of great design challenges – requires sign-in
Instructables – Site with loads of cool projects for kids to make!
KidsThinkDesign – A look at design in the real world, with loads of information for kids interested in design.
Make Projects – Lots of projects and inspiration for kids who like to tinker and invent!
Rube Goldberg Machines – These can be as simple or as complex as you can dream up but for kids who like to build and experiment, creating a Rube Goldberg is a must!
Art
Deep Space Sparkle Art At Home – This site has a series of "draw with me" videos with art activities for elementary aged students. Most activities use basic supplies like paint, markers, crayons and pencil crayons.
Lunch Doodle With Mo Willems – Great little "how to doodle" videos by well known children's book author and illustrator
Good Housekeeping Art/Craft Ideas – Loads of great art and craft activities for elementary school kids. Need varying levels of supervision.
Recreating Famous Works of Art at Home – This started as a museum challenge. This is great for older kids who are looking for something fun to do, and they might even learn some art history! Here are some links to get your kids started:
Examples
More Info and Examples
Science
Brain Pop Science (free until June 15th) – Lots of great little videos and information
Science World (The Dome at Home) – Some great at-home experiments and activities
National Geographic Kids – Loads of great information about animals,  science and the world!
Science Friday – A great site with lots of fun science facts, podcasts and stories.
PBS Kids – Great site for younger kids with a variety of games,videos, etc. Also has a site for parents,
Climate Kids – Site with lots of information about the climate – designed for elementary age students.
Xplorlabs – Neat site giving kids a chance to explore real-world science and engineering problems. Grade 5 to 10
Biographic – Loads of great stories and images about animals and the environment – great for confident readers who are interested in those topics.
Global Climate Change – Great site for older kids who want to learn more about climate change. Run by NASA
ERAC Resources
(please use the inner scrollbar to view all resources)
Child and Youth Mental Health – The Ministry of Children and Family Development Child and Youth Mental Health Team on the North Shore continues to proactively respond to COVID-19 to ensure the health and wellbeing of children, youth, families and employees, while continuing to provide vital services. CYMH is continuing to offer full services to children, youth and their families through virtual means.  CYMH clinicians are continuing counselling sessions with clients through phone and a secure virtual application ZOOM that has been approved by our ministry and has multiple security features, including password protected meetings. Intake services will also continue by virtual means.  Anyone interested in CYMH services can call 604-904-4300 Monday to Friday between 9am and 4pm (closed during 12-1pm) to request an intake session.  They will be asked initial details regarding contact information and then will be contacted by a clinician to set up an intake appointment over the phone.  Our intake days will continue to be on Tuesdays and Wednesdays during our office hours.
---
Crisis Centre – is offering free online courses for adults and youth to manage stress during the current health crisis.
---
Family Services of the North Shore – offices are closed to in-person programming and support. Current clients will be supported by telephone and day to day operations maintained by staff working remotely. There is also FREE Counselling Support for up to 6 weeks being offered. Call 236-982-9871 (local call) Monday to Friday from 9am-5pm to speak directly with a counsellor. For a list of other programming available, please see the latest update https://www.familyservices.bc.ca/covid-19-support/ Main Website: https://www.familyservices.bc.ca/ Phone: 604-988-5281
---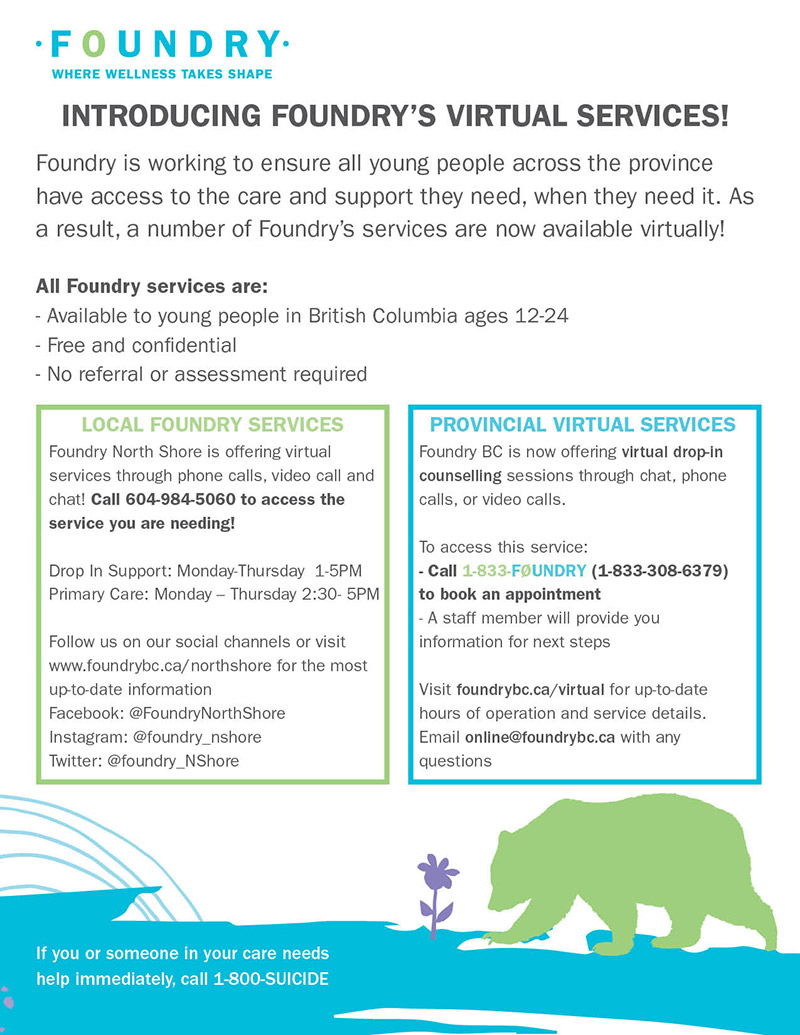 Foundry (ages 12-24)
Drop-In Support : The drop-in care team is still available to support you via telephone during regular drop-in hours (Mon – Thurs 1 – 5pm). Instead of coming to Foundry, please call 604 984 5060. Your call will be forwarded to a drop-in care team member. If we're experiencing a large number of calls, you will be given an approximate time when a care provider will call you back.
Primary Care Drop-In Clinic: Primary care and medical services are available via telephone during regular drop-in hours (Mon – Thurs   2:30 – 5pm). Instead of coming to Foundry, please call 604 984 5060. Your call will be forwarded to the primary care team. If your concern requires a physical exam, an appointment will be scheduled for you.
Peer Support: If you're interested in speaking with a peer support worker, please call 604 984 5060 during drop-in Support hours (Mon – Thurs  1 – 5pm). The peer support worker will call you back.
Parent Navigation: If you'd like to speak with our Parent Navigator, please call 604 984 5060 during drop-in support hours (Mon – Thurs    1 – 5pm). The parent navigator will call you back.
Psychiatry: Scheduled psychiatry appointments are taking place via telephone. The Dr. will contact you as scheduled.
Hospital Liaison: Service will be intermittent until further notice.
Urgent Response (formerly iYOS): Reduced service available. Call 604 230 0389 Monday – Friday 9am – 7pm.
Groups: All groups have been suspended until further notice.
---
Hollyburn Family Services – head office is closed, counselling services are provided by telephone or Zoom conferencing. Please call the main office line 604-987-8211 to be directed for assistance. Here is their COVID-19 update
---
Kids Help Phone –  the federal government has increased funding to the Kids Help Phone. https://kidshelpphone.ca/ The website has access to support for children and youth 24/7 by text, phone, or live chat. In addition, there are resources regarding emotional support during the COVID-19 pandemic.
---
Shared Care – Doctors of BC – have created a document called Managing Anxiety & Stress in Families with Children and Youth During the COVID-19 Outbreak
---
Some online resources and ideas: 
BC Council for Families Resources and Ideas to support parents and families during the COVID-19 response
CASEL (Collaborative for Academic and Social Emotional Learning): resources for parents and educators for dealing with COVID-19  https://casel.org/covid-resources/
Dalai Lama Center Heart-Mind Online Resources https://heartmindonline.org/resources are Social Emotional Learning resources for educators and parents. They are specifically creating resources for our current situation like this one for joyful movement breaks
Human Early Learning Partnership (HELP-UBC) A consolidation of selected resources and publications to help navigate COVID-19 in Special Issue: COVID-19, April 2020
WE Schools@home free tools and resources that have an emphasis on well-being, social and emotional learning, service-learning and fostering resiliency.  https://www.we.org/en-CA/our-work/we-schools/at-home/
EASE at Home offers helpful tips for parents, like how to teach children calming breathing techniques or use structured games like scavenger hunts to build routine in a way that's fun: https://www2.gov.bc.ca/gov/content/health/managing-your-health/mental-health-substance-use/child-teen-mental-health/ease
The Ministry of Education's Erase strategy was expanded to include mental health: https://www2.gov.bc.ca/gov/content/erase
The Government of BC – For more information about available child and mental-health supports and contact information, visit: https://www2.gov.bc.ca/gov/content/health/managing-your-health/mental-health-substance-use/child-teen-mental-health/mental-health-intake-clinics
The Ministry of Education's new Keep Learning site has resources for parents to support positive mental health under the "Keeping Healthy" tab: https://www.openschool.bc.ca/keeplearning/