West Vancouver Schools
District Honour Choir
Open to students in Grades 8 - 12
Audition Submission
Auditions will now be conducted in an online format.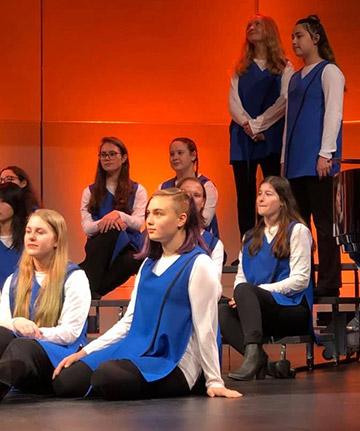 District Honour Choir is a mixed and treble choir course that offers an opportunity to challenge and extend the learning of West Vancouver Schools' finest young singers in Grades 8-12. The course provides the potential for up to 5 years of credited music electives towards graduation. 
The course is held on Tuesday evenings at West Vancouver Secondary School (South Campus, Room 64).  The Intermediate Treble Honour Choir meets from 3:30-5:00. The Senior Treble Honour Choir meets from 5:20-6:50pm.  The Mixed Honour Choir meets from 7:10-8:40 pm. Students must also be enrolled in their home school choir for the year in which they are registered for the District Honour Choir (NO exceptions will be made, so be sure to look into when the home school choir meets and schedule around this rehearsal as well).
Travel has been suspended due to the pandemic.  We are still working virtually with clinicians from out of the country and hope to travel again once it is safe to do so.
Successful applicants to the District Honour Choir must meet the pre-requisites for the course before applying.  Pre-requisites are as follows:
Experience singing in a choir (either school or community)
Knowledge of basic music theory (e.g. note names, basic note values, basic dynamics and articulation markings)
Must be enrolled in their school choir for the year in which they are registered for the District Honour Choir
Availability for concerts and extra rehearsals outside of regular class time (schedule provided at the start of each term)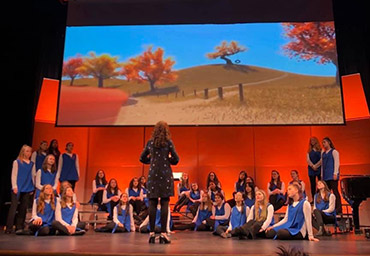 In addition to meeting the pre-requisites for the course, all students will be required to participate in an audition. This will be in an online format. The auditions will cover a variety of vocal exercises to assess concepts such as vocal range, pitch accuracy, and tone quality. Please click here to learn more and to submit an online audition. Students are selected mostly based on their musical potential and apparent desire to work hard and make music at the highest level possible.
* Course Fee: There is a $200 fee for this course, to cover items such as the following:
Bussing to concerts and workshops in the community
Music festival entry fees (e.g. Kiwanis Festival)
Guest clinicians invited to workshop the choir
Casual uniform items and rental fee for formal uniform items
Official Honour Choir choral folder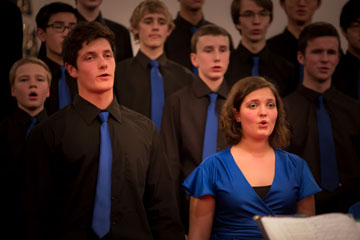 This group will travel each year (either locally or abroad) to attend festivals, workshops and performances.  The cost for our annual trip (anywhere from $250-$5000, depending on our destination) is in addition to the $200 course fee.
Contact program director, Mrs. Suzanne Fulton, for more information at sfulton@wvschools.ca.
For more information:
WVS District Program
District Honour Choir Director
Suzanne Fulton
Music Unites Us
This project was created with District Honour Choir families in support of Canada's Music Monday on May 4, 2020.
The Sing Project
Choir teacher Suzanne Fulton coordinated The Sing Project, involving more than 550 choir students from across the district. School choir teachers were also involved, preparing each school's choir for the big event.
The students performed the song 'Sing' by vocal group Pentatonix. Grade 12 videographer Owen Shields produced this video of the event, recorded in November, 2016.