Premier
Fashion Industry
Open to students across the district
If you are interested in this program, please complete the Student Information Form.
West Vancouver Schools Premier Fashion Industry Program is a broad-based program open to students in Grades 10-12 who have a strong interest in all aspects of Fashion! The course will look at the development of fashion and industry topics such as design, production, marketing and fashion promotion.
Students will have the opportunity to develop a portfolio that will explore concepts of fashion production incorporating industry techniques and design. Students will experience use of the latest equipment – laser cutter, Inkscape software, 3D printer, wax carving and melting metals for casting jewellery. Traditional techniques such as drawing the figure, drapery of fabrics and fashion design drawings are fluid throughout the course. This program is ideal for those students who want to build on their creative processes.
This program provides an excellent background for students interested in pursuing fashion, but does not have a sewing component. However, students will have the opportunity to participate in all aspects of the bi-annual district fashion show.
This Fashion Industry program meets every Tuesday and Thursday from 1:00pm  to 2:20pm (during X Block) with students completing work online related to fashion news, discussion boards, homework assignments, updates and more. All students (male and female) are eligible for this course who can show sample/s of past work in the creative arts and have demonstrated strong time management skills.
Students, Grade 10-12, who register and are accepted into this Premier Fashion Industry Program will receive credits for the Ministry course: Fashion Industry 12. Course fees are $75 per year.
---
For more Information please contact:
Laura Fitzpatrick
lfitzpatrick@wvschools.ca
Contact
Laura Fitzpatrick
Fashion Industry Program Leader
West Vancouver Secondary School
1750 Mathers Ave
West Vancouver, BC
V7W 3H2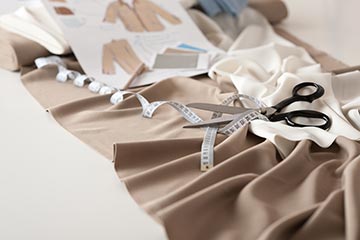 If you are interested in this program, please complete the Student Information Form.