WVS Premier Mechatronics Robotics Academy Students Succeed at World Championships, 2018
May 3, 2018 - 2 minutes read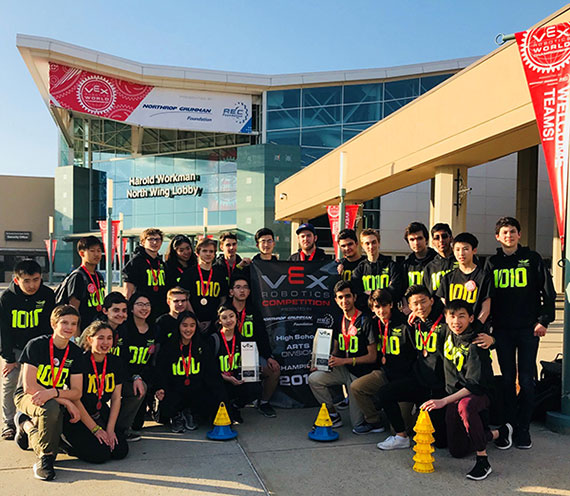 25,000 students from 40 different countries participated in the world's largest robotics competition – the 2018 World Championships.  The West Vancouver Schools Premier Mechatronics Robotics Academy qualified 3 teams who attended the competition in Louisville, Kentucky, April 25-28, 2018. These students represented our district along with the so many of the world's best builders, programmers and creative problem-solvers in competitive robotics.   All 3 teams, Team 1010 B, 1010 N and 1010 X, made their division playoffs.   Team B achieved a world record with the highest combined points score in a match.  Team N progressed to the Semi-Finals for their division.  Team 1010 X won their Division, won the Semi-finals and placed 2nd in the World in the finals to China and another Canadian team from Oakville, ON.
Please join us in congratulating the 26 students who attended the 2018 World Championships and placed West Vancouver on the world stage for our district's robotics academy program.
Team B:
Daniel Akbarzadeh
Daniel Choi
Jayden Guo
Caden Hewlett
Christian How
Artem Kurtynin
Kian Lalji
Markus Lear
Brayden Smith
Team N:
Pedro Amui
Ry Cyna
Harry Farrell
William Grellier
Brendan Han
Katherine How
Jimmy Jin
Monique Johnson
Team X
Jedidiah Chiu
Stephanie Chow
Cole Davidson
Jasiu Karcz
Alison Shang
Andrew Stoenscu
Ariel Wang
Hansen Wang
Nima Zareian
Congratulations to all our students! And a big congratulations to Mr. Todd Ablett, Dr. Mahesh Chugani, Mr. Mark Fenn, and the volunteer adult chaperones, who all went above and beyond the call of duty, to help all the students succeed.