A welcome community amenity
April 17, 2019 - 1 minute read
Help rebuild the track and field at West Vancouver Secondary School as a valuable asset for the entire West Vancouver Community.
The West Vancouver Place for Sport (WVPFS) will be a welcoming, versatile track and field community sports facility. Its users will extend well beyond the students of the school district, providing a safe, flat, well-lit area for citizens of all ages, abilities and interests to improve their fitness and social interaction through a variety of sport and fitness-related activities.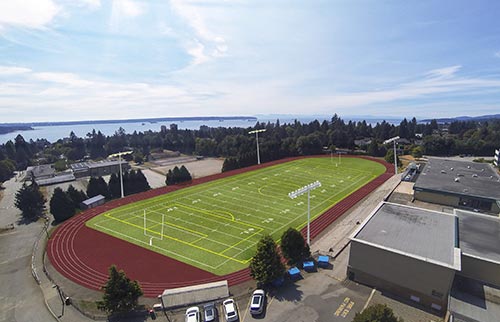 Highlights of the new facility will include…
Renewed five-lane rubberized running track.
Ecologically responsible and sustainable all-weather, all-season turf field.
Low-energy lighting, accessible washroom facilities.
A safe, welcoming environment for young athletes, seniors and families.
The WVPFS is a partnership between West Vancouver Schools, the District of West Vancouver and the West Vancouver Foundation. Now almost seventy years old, West Vancouver's only running track which also incorporates a deteriorating grass field, is in urgent need of replacement.
Learn more about this project or donate to the campaign at the WVPFS website here: https://wvpfs.org/
Click here to view donor information – Mandarin