Support for classrooms
January 24, 2017 - 4 minutes read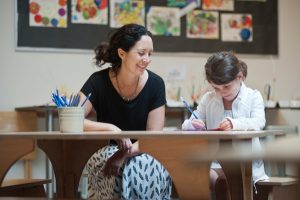 On many occasions, I have commended our exceptional staff on the role they play making this district such a special place to learn and work. It is their daily contribution, year after year, connecting to students and families, that brings learning alive for so many young people – many of whom have gone on to pursue great things both in our community and further afield. Our educators' success has a direct impact on the quality of learning in our schools, and we are grateful for their commitment to the district's learners.
By now, many of you will have heard that our district has plans underway to hire new teachers, using funding provided by the government as part of the Priority Measures Agreement with the BC Teachers Federation. It has been a priority of this Board to advocate for increased funding and support for all students, and we are pleased to be moving forward as quickly as possible in hiring more educators.
The government has provided $50 million in new funding to create 1000-1100 teacher full-time equivalents (FTE) across 60 districts for the balance of the current year. Our share of these funds – just under $600,000 – will go to hire about 16 teachers, focusing on priorities defined by our staff, in collaboration with representatives from the West Vancouver Teachers' Association. Our priority – to ensure maximum support for students where it's needed most – will determine how many teachers are hired and where they can best be deployed for the remaining five months of the current school year. We are committed to ensuring additional teaching time in all 17 schools. Talks between the province and the BC Teachers' Federation are ongoing, and we look forward to hearing about the "next steps" which will have positive implications for our staff and students in future years.
Another initiative, which was created specifically here in West Vancouver, allows the Board to invest in specialty education for our own exceptional staff. At its public board meeting this past week, the Board committed to a new $50,000 fund to support teachers who wish to further their education in specifically identified areas: teacher-librarian, learning support, school counselling and English language learning. This initiative is exclusive to West Vancouver School District educators, and will be funded out of our regular operating budget, allowing as many as 25 teachers who wish to pursue in-demand specialty teaching qualifications to defer some of the costs associated with a diploma or Master's degree in the 2017-2018 school year.
The Board is extremely proud of all of the staff who work hard to do the very best for students and bring new opportunities on board. Their hard work, care and dedication, has contributed enormously to student success. As always, we will continue to work hard to ensure that additional funding is distributed to build on a system that is widely regarded as among the best in the world.
Carolyn Broady, Chair