Properties Family Hub
IPALS Program
Immigrant Parents As Literacy Supporters
Farsi Program: Starts October 4, 2019
Mandarin Program: Starts October 4, 2019
Free, Fun Learning
What is IPALS?
IPALS is a literacy program for immigrant families with children from 3-5 years old. Parents and caregivers learn strategies to encourage their young children to develop language and literacy skills to help them adapt to their community and prepare them for school.
Please note that all participants must have a Permanent Resident Card to enroll in this free program.
Registration is limited, so please register as soon as possible to reserve your family's place in the program.
For more information please contact: Deanna Devita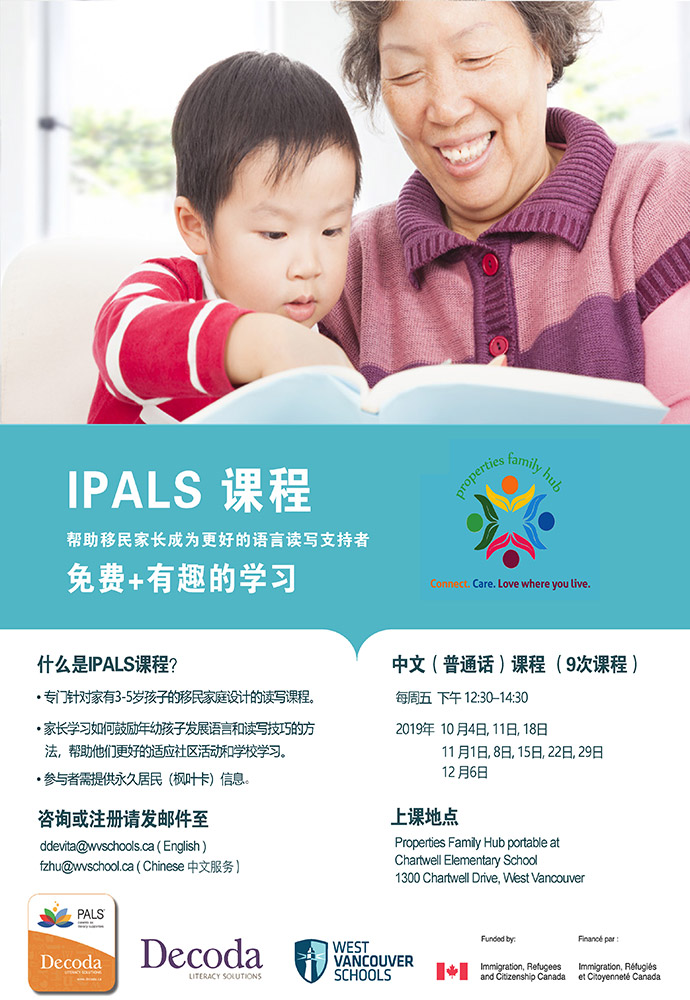 Farsi Program Schedule:
Fridays from 9:30 – 11:30 AM
at Hollyburn StrongStart
1329 Duchess Avenue
Oct 4, 11, 18, 2019
Nov 1, 8, 15, 22, 29, 2019
Dec 6, 2019
---
Mandarin Program Schedule:
Fridays from 12:30 – 2:30 PM
at Chartwell StrongStart
1300 Chartwell Drive
Oct 4, 11, 18, 2019
Nov 1, 8, 15, 22, 29, 2019
Dec 6, 2019