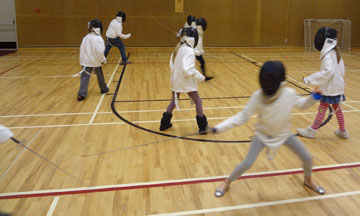 Are you ready for a challenge? Are you looking for something fast & athletic? If so, the sport of fencing is here for you! Fencing is like a physical game of chess that takes strategy.
Being involved in this program will provide students the opportunity to participate in a group setting where friendships are made and true sportsmanship is encouraged.
Come on out and learn self-discipline, gain quick reflexes, and compete independently in a team environment. You are guaranteed to gain a sense of accomplishment, make complex decisions, analyze problems, and most importantly, think fast on your feet!