WVSS grad reaching for the sky
September 24, 2015 - 4 minutes read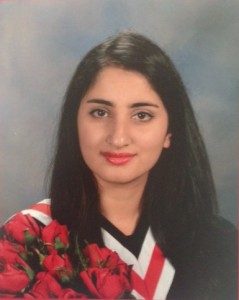 Yasaman Derayat credits her IB experience, hard work and persistence for her success, which now includes the award of National Biology Scholar with Distinction. In 2015, along with several of her peers, Yasaman competed in the University of Toronto's 2015 National Biology Competition. She achieved 39th place out of 3,399 eligible contestants from 243 schools in Canada.
"I tried to challenge myself and persisted on getting enrolled in the IB program, which in turn encouraged me to aim high," says Yasaman. "The amazing staff at my school also created an environment that inspired a passion to learn, not just to get good grades. I thank Ms. Langdon, my biology teacher, as well as my parents for their endless support."
Yasaman attended WVSS from Grades 9-12, graduating in 2015 with the WVSS Scholarship for academic excellence, along with another school-based scholarship, in addition to awards from the Canadian Federation of University Women, the British Pacific Properties, a UBC major entrance scholarship. She has also been designated as a UBC Chancellor Scholar and is currently studying for her science degree at UBC.
"The competition was a very interesting and challenging one, as it required not only knowledge of biological concepts, but also analysis and interpretation. I was very excited to find out about the results, as biology is my passion, and I could see that my efforts were starting to pay off," explains Yasaman.
Yasaman is interested in a career in medicine, and would like to give back to her community, perhaps even by joining Medecins sans Frontiers. Her passion for biology was first piqued by her biology teacher. Many of the opportunities offered by the school, including the chance to work in the Michael Smith Lab at UBC in Grade 11 and a 3-day trip to the Bamfield Marine Science Station, extended her learning and drew her in further.
Science wasn't the only interest that Yasaman pursued during her time at WVSS. Her interest in arts and sports was also a rewarding experience, rounding out her education and enjoyment of the school community.
"I have so many great memories outside the classroom as well, playing with the school orchestra or competing against the other schools in our district with the school tennis team. I also have so many great memories of rehearsing and performing with the WVSS theatre company, one of the best among other districts, under the direction of Ms. Hogan."
For students interested in a career in science, Yasaman has some advice for future grads.
"Try and look for opportunities outside of the classroom where you can get hands on experience in labs etc. because these experiences complement your learning and make science so much more interesting," Yasaman advises. "I know that there are programs such as mini med, or the HSSW (high school student science week), which you can participate in."
Her parents, who are very proud of her, were genuinely happy about her success in the competition and her Grade 12 achievements. Yasaman says that parents can best support students by giving their children time to find out what they are passionate about, and help them in this process by looking for activities and programs that can open up opportunities.
"Parents can also help their children maintain a balance between their social and school life," adds Yasaman. "Ultimately, once children discover what they love, they will independently maintain this balance and strive to achieve goals in their field of interest."
Yasaman's academic achievements are sure to bring many rewards her way and make a difference in the world. Congratulations – we are very proud of your determination, focus and talent!