The little boy who could
April 5, 2016 - 6 minutes read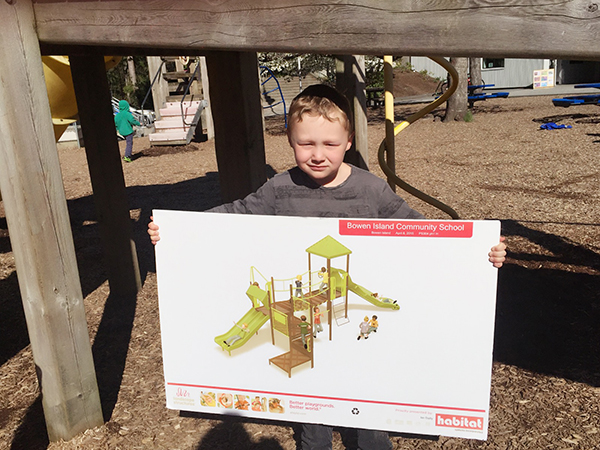 Levi Seaberly, a Kindergarten student at Bowen Island Community School (BICS), is predictably adorable. But he's also an emblem of the community spirit found across the island, in his school and in the homes of so many of our families.
Last year, the Community School Association met to discuss the upcoming Christmas Craft Fair, which among other priorities, included fundraising for the new playground. Levi Seaberly, whose mother, Trish Seaberly, works as an Education Assistant at the school, brought her son along and let him sit in on the mostly adult-oriented presentation.
"He's a sponge," says mom Trish. "During this one-hour, focused meeting on craft fair etiquette, Sarah Haxby, the community school coordinator, mentioned that profits could be donated towards the school's playground, and just like that, he decided he wanted to make a difference."
While Levi's mom says her son talks non-stop, it's clear that he's also a good listener, and able to stay attentive for a lot longer than many kids his age.
"I wanted to donate money for the new playground so that it would be good for the school and better for the environment," explains Levi. "Sometimes when I get really into it, it's really easy to focus on what someone is saying."
Together with his mom and grandmother, Levi baked almond roca, dog biscuits and tiger butter (a treat containing white chocolate, peanut butter and dark chocolate) to sell at the fair. He donated all of his profits – about $100 – to the playground project.
While not a big sum of money in light of the total fundraising goal, it certainly qualifies as a lot of work for someone his age, and illustrates the kind of empathy that the district's schools hope to instill in children from an early age. He's learning plenty at home about self-sufficiency as well, since the family grows their own vegetables in the garden and Levi helps plant, harvest and sell some of them at the local farmers market.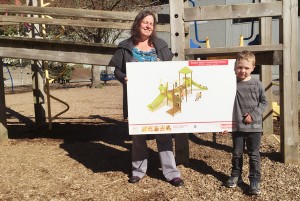 "What is most impressive about Levi's efforts is that it was completely unsolicited," says BICS principal Scott Slater. "He knew we were fundraising for something that would benefit the school and community and though he was not directly asked, he wanted to help."
Asked why he wanted to do it, Levi has clearly picked up the main themes of the presentation and shows an early interest in the feelings of other children.
"If it's upgraded it might be more fun and the kids will like it, and they might be impressed with the school."
Levi's mother says her son is always smiling and is friendly, kind and helpful both at school and home.
"He has a very outgoing personality, so we include 'talk time' before bed," explains Trish. "He's also very confident — he can hang out with kids in Grade 7 and play with them."
While it's very early to say what this little guy will do when he grows up, Levi seems to have a pretty good idea, as the third generation to live on the island. One of his grandfathers was a backhoe operator and Bowen Island volunteer firefighter. At 70 years of age, he's still going strong. His other grandfather is a retired Vancouver Fire Chief. Trish and Levi's family have lived on Bowen Island for 42 years, when her father bought the land and built the farm and buildings, including a hayloft, which was turned into a two bedroom suite, where Levi and Trish currently live.
"I want to be a fireman and a workman," says Levi. "Like my grandpas."
The pair can sometimes be seen astride their horses, on their way to school, a few blocks down the road. His mother, who trains horses and has taught horseback riding for 30 years to children and adults, is clearly proud of her son's love for animals and resourcefulness. The pair have some 22 egg laying chickens, and two cats. Recently, Levi traded some of the eggs for a bridle for his pony.
"Maybe you can volunteer and raise some money to set up paddocks [near the school] for the horses," Trish suggests to her son. "Yeah, maybe I will," replies Levi. "Maybe I will."
We are proud of the initiative Levi has shown and the support he gets from his school and family to develop his full potential. His story is a lovely example of a community and a child raising each other.