Hollyburn custodian's generosity, talent and smile a legend district-wide
December 14, 2016 - 9 minutes read
There's an Ebenezer working in the school district, but he's got absolutely nothing in common with his more infamous namesake, Ebenezer Scrooge. Ebenezer Hechanova, more commonly known as 'Mr. Ben,' is the kind of man that everyone should have the pleasure of meeting at least once. And with a career spanning three decades employed at every school in the district, many people have had the opportunity to be touched by his special presence.
Since 2007, when he moved from Bowen Island Community School, Ben has worked the day shift at Hollyburn, starting to prepare the school for visitors, students and staff no later than 5:55 am each day. His routines, designed to meet the highest standards for safety, form the backbone of his day, year-round.
"Ben takes care of the school and the people in it the same way most people take care of their homes. He knows the building inside and out and is always one step ahead of everything," says Hollyburn Elementary Principal Kim Grimwood. "He takes great pride in his work and the relationships with staff and students. He is Hollyburn's father figure and always goes the extra mile to make sure everyone is safe and everything is running smoothly."
The work changes, depending on the season, but Ben leaves no stone unturned. In the morning, Ben checks the boiler, scanning for any deficiencies in pressure or the motor. He ensures that air handling and temperature are functional in each classroom, cleans all the rooms and checks the surrounding grounds. Anything requiring the assistance of the trades, including lights, electrical, heating, cooling or plumbing is reported, and a work order is sent to facilities for repair. Ben attends to minor things, if time permits, such as carpentry, moving furniture, or minor electrical work.
"You really are responsible for the safety and cleaning of the building itself," says Ben, who moved to Canada with his wife and two daughters from the Phillipines in 1987. "Back home, I was a property custodian, and my work involved supply management for the government – here, I needed to upgrade my skills so that I could look after the air conditioning, heating, maintenance and general cleaning of each building."
"The winter time can be more challenging – things like shovelling or heating if there's a breakdown, because you can feel a bit helpless to resolve some things on your own," says Ben. "I'm really grateful that we have such good facilities and that our people are always ahead of things here – the tradespeople are very good."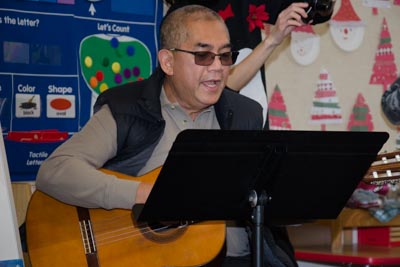 While he takes his responsibility very seriously, Ben often shares his love of music and sports with his colleagues and students. He absolutely loves coming to work, because the rapport he has with staff and students is extremely rewarding. Some of his most treasured moments have come while interacting with special needs children; he entertains them through song and play, and he says that no matter what their difficulties may be, music and play make the magic of connection happen every time.
"I really feel like I belong in the district and that I am respected and loved," Ben explains. "I blend very easily, because I enjoy many things I can share with staff and the kids – I have an interest in sports and music, and have always taken part as much as possible, playing basketball, tennis and guitar."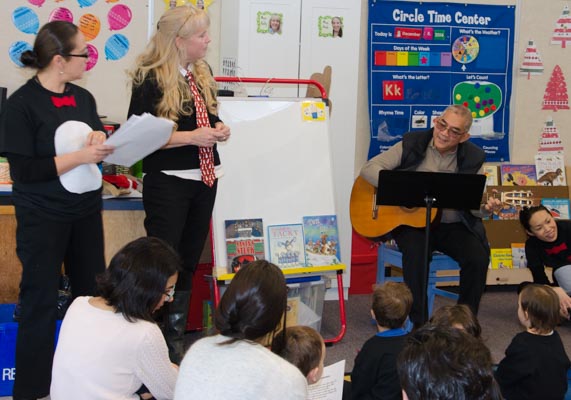 On his breaks and in his free time, Ben works on his music with people at the school, in the district and connected to his church and community in North Vancouver. He has worked with many people past and present, including WVSS Vice Principal Brad Daudlin and retired BICS principal Glen Rose. On the day of Ben's interview, he performed Christmas carols with parents and children enrolled in Hollyburn's StrongStart program, which is open to families with children 3 or 4 years old.
"This is a first class district that values your work and the dignity of labour," says Ben. "It's important for people, whether they start working here or are in our schools for the first time as a family, to share their culture and interests with everyone you can – it's a very promising place to begin, and people are very accepting."
Ben has even saved a life – as the only person within earshot when a parent's car careened off a cliff near the school, his quick action brought needed help just in time.
"I heard a loud crash and saw the accident happen, so I ran back to the school to get help from the office – the driver was pinned in his car and needed CPR immediately. Between Principal Glen Rose and an education assistant, we were able to keep him safe until emergency personnel arrived."
Ben and his wife are very connected to friends and family here in Canada and belong to a close knit church community. He began working within months of his arrival to support his family, which grew to include a third daughter, who has now completed her BA in psychology at SFU and preparing to take her Master's degree.
Following his departure from the Philippines during the revolution, Ben was able to sponsor four of his brothers to join him in Canada, while his sister married a UK citizen and moved to England. His father, a respected Brigadier General in the army, passed away in 1990. His mother, whose ties to her home country remained strong until her own death, remained in her community just south of Manila.
Ben is proud of the fact that he had the vision and determination to build a better life in Canada for so many of his siblings. He is grateful to the district and his union for its support during two brushes with cancer, in 1996 and 1999, and to Canada for the excellent health care he received while he was ill and for the knee replacement surgery he received in June 2006.
"I'm like an old car – I needed some care to get well and God is good and merciful – I had way more to accomplish and do," says Ben, who enjoys walks on the seawall with his spouse to relax and unwind. "That's when I relieve stress. We do things together and I'm always in awe that we live in such beautiful natural surroundings."
So many of the classics – cars, music and people – are the ones we value most. The smiles Ben creates and the work he does makes every day a joy for those who depend on him, whether at work or at play.