Goal oriented grad scores award
April 7, 2016 - 6 minutes read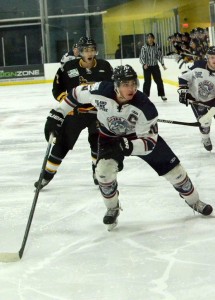 Brandon McReynolds graduated from Sentinel in 2014 as a very accomplished hockey player with a professional attitude and plenty of ambition. As of late March, he was also one of a select group of 12 young Aboriginal people to be awarded a Premier's Award for Aboriginal Youth Excellence in Sport at the Gathering our Voices Youth Conference in Victoria – the latest in a string of accomplishments that this young man can tuck under his belt.
"It was pretty awesome being one of just 12 young First Nations people up there with the premier," says Brandon. "There were 75 applicants across the province that were nominated for these awards in sports and community service, and just 6 male and 6 female nominees were selected."
Brandon, a member of the Squamish Nation, is a strong skater and talented centerman, who shows plenty of skill both offensively and defensively. He has excellent leadership skills and good character, which makes him a very coachable player. His ability to win draws and score goals rounds out his top skills, which he's always working to improve.
"I'm always looking to improve on every aspect of my game," says Brandon." I work every day on getting better at my game because you can never be satisfied with the level that you are at."
During the 2015-2016 season, Brandon played for the Comox Valley Glacier Kings in the VIJHL, Jr. B league, where he was the Captain of his team, finishing 9th in league scoring. He was also an affiliated player of the Jr. A, Alberni Valley Bulldogs of the BCHL and played some regular season and playoff games for them. He scored the game winning goal for Team BC in the 2014 National Aboriginal Hockey Championships, proving that he can push the envelope, even under pressure.
"I got an invitation after scoring that winning gold medal goal to take part in Season 2 of an APTN TV program called 'Hit the Ice'," says Brandon. "It's a 2.5 week training camp that invites the top 20 Aboriginal players in the country together to learn from NHL players and coaches. Junior Scouts were also there to take a look at the top prospects."
All these stepping stones started in Lethbridge in the late 90s, where Brandon played hockey with his family in the kitchen at the age of two. By four years of age, he was on the ice, playing 2-3 times per week until his family moved to North Vancouver when he turned 10.
"The ice has always been a home away from home for me," says Brandon. "I like the fact that once you're finalized as a team – you definitely bond together and become a family – it's like a whole other family that you have. I'm still friends with everyone I've played with over the years, and in the end you realize you're a big family and you do it all together because you love the sport."
Once he moved to British Columbia, training got a bit more serious, and Brandon began wearing a suit and tie to the games.
"In North Vancouver, I practiced 2-3 times per week and played games up to two times per week, some of them in places like Abbotsford, scheduled during rush hour," says Brandon. "But you do it because you love it."
Initially, Brandon attended school in North Vancouver at Larson Elementary, and moved to Handsworth in grades 8 and 9. He was drawn to the Hockey Academy offered through Sentinel, which he attended to complete grades 10, 11 and 12.
"The hockey academy was a good experience run by Ms. Diane Nelson; they brought in some good coaches and the program allows you to get on the ice nearly every day," he says. "You get a bit of an edge on other kids who are maybe not able to do that during the school day, and the two off-ice days allowed me to develop my physical skills doing things like twist conditioning and yoga."
A member of the Spartaners, a group of high school kids that help new students orient themselves on arrival at Sentinel, Brandon continues to give back to his community. In Comox, he took part in a school visiting program doing tobacco-free presentations. After the presentation, he played floor hockey with some of the younger children.
Brandon has been home for about three weeks and is getting into the training season, fine tuning his skills for next season. While he isn't 100% sure about his academic plans, he does have his eye on getting a scholarship to play for a university. He's looked into Criminology or Kinesiology, but for now, it's all about the hard work it will take to get there.
Armed with a unique set of skills and all those leadership skills, we know that you'll be skating to victory, no matter where you are or what you do, Brandon!