Giving is its own reward
December 16, 2016 - 10 minutes read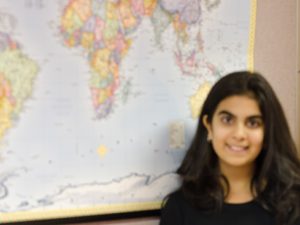 Zoie Bhalloo, a Grade 7 student at West Bay elementary, is wise beyond her years. When you try, she explains, you will sometimes win and sometimes fail, but you will always learn more about yourself in the process.
Zoie may know more about how to define her goals now than she did in Grade 1, but she has always been driven to help, and her efforts have paid off for friends, family and strangers, as she experiences more success than failure with each fundraiser and cause she takes on.
In Grade 1, Zoie, then in attendance at Ecole Cedardale, worked with students to raise funds for the diabetes foundation. By Grade 3, in discussion with classmates, the work became more sophisticated – the group developed rainbow loom bracelets – a different colour for each type of cancer – that could then be sold to support specific types of cancer.
"A bunch of people from class were familiar with cancer, and almost everyone knew someone who was affected," says Zoie. "My grandmother had lung cancer, and when I told her about the project, she started crying because she was so happy to hear that I was taking action on something important to her."
The initiative raised $347 the first day of sales, with plenty more to follow. Zoie, who transitioned from French Immersion to West Bay in the third grade, was inspired to do more.
"You can share your ideas, and I've found that the teachers are open to everything," says Zoie. "I knew after doing the diabetes clothing drive that that there are no boundaries for me, so I started with the Internationally Minded (IM) group at the school, and we've done many projects for people locally and around the world."
One project, involving a food drive for Syrian Refugees in Grade 6, taught the group an interesting lesson, when their first drive brought donations of packaged foods that are familiar to local residents, but largely unknown by newcomers from Syria.
"We could have been discouraged, but instead we did a second food drive, this time collecting things that the family knew much better – things like rice, beans and lentils," says Zoie. The families, she explained, were even happier than they'd been with the group's first efforts, and the students were inspired to have learned something valuable about addressing needs from a recipient's perspective.
Most recently, Zoie's IM group conducted a blanket drive for Covenant House, collecting new and used blankets, along with raising funds from the sale of banana bread and juice. Along the way, the group learned a great deal about inequality.
"I felt bad for young people who don't have a home," says Zoie. "Coming home to a clean bed and good food is something we take for granted, and not having that is something that's really hard to imagine. It's so unfortunate to see so much inequality, but it made us happy to get so many blankets, to educate our school and hopefully continue the ripple effect into the community."
Zoie, who loves her school for the opportunities it brings to think more globally, is currently working on her project for the IB exhibition. Students use the opportunity take action based on a unit they are taking, and this year, her focus will likely be on chemistry and climate. She got the idea to take what she learned to enter the Lives That Make a Difference essay contest on the work of David Suzuki.
"I'm really inspired by what David Suzuki has done – he gives his time, prevents extinction and really puts everything into what he does," says Zoie. "We live in a demanding generation and we sometimes forget to give and share, so we need to remember to help those that need our help, and learn that we may not always be able to expect things."
Zoie is inspired by her parents, who were born in Africa and whose parents worked hard to establish themselves in North America. Her father, a lawyer who teaches at SFU and is a member of the West Vancouver Police Board, takes time to guide Zoie and her siblings on how to approach a project, and Zoie counts on his connections in the community often to help her with a particular project. The family spends time at the dinner table discussing the issues that matter, and Zoie says this is an important part of the inspiration she gets to continue working on her goals. Zoie's sister, 13, attends Rockridge, and she has a younger brother in attendance at West Bay.
That balance and support allows Zoie to think deeply about what she values and what she wants to do.
"I want to enjoy this time in my life right now, but I'm also looking forward to being a bit older, because I know that a lot of people don't take me as seriously now," says Zoie. "I can do a lot more and I think that when I'm a bit older, more people will take me seriously and reinforce the things that I'm trying to do."
One of the causes close to Zoie's heart is that of women's rights. A strong believer in equality, Zoie says that gender should never be the important factor. She got to learn a lot more about that issue recently as a representative for her school at the Unity in Diversity Awards. The school was a nominee in the organizational category, and she and her friend, Cassidy Foley, attended the ceremony together with principal Judy Duncan.
"I heard some fascinating information about all the active causes on the North Shore, and it was great to hear how so many people are involved in helping."
Headed to Rockridge next fall, Zoie is a bit nervous, but hopes that her passion for community involvement, along with her participation in a competitive dance team, in WE day and basketball will position her well to succeed.
"In high school, I want to take more initiatives, such as helping with education in Kenya. At WE day we heard from Lily Sing, who made bracelets to support girls' education – the money she raised went to build schools and provide resources – education is a necessity."
Zoie speaks fondly of her grandparents, whose hard work paid off for their own children. She relates a story about her father, who was somewhat less fortunate in his early years. He, along with a sister and parents lived in a 1 bedroom apartment before settling later into a 2 bedroom unit.
"His office was the emergency exit," says Zoie. "Today, he's a leader in his field."
Zoie may follow her father into law. One of her current units is on law and justice. She is a great supporter of human rights and enjoys expressing herself through words. Quiet and thoughtful, she has high hopes for her classmates, who are successful in many pursuits that differ from her own.
"Whether you're good at writing, sports or computers, I think we're quite motivated as a group, but many people are perfectionists," she says. "Getting to know yourself and dive into things can help drive your motivation; if you don't try something because the result might not be perfect, you aren't really learning what you're capable of doing."
Wise words of advice for us all, Zoie!