Anti-Bootlegging Campaign
May 6, 2015 - 2 minutes read
Anti-Bootlegging Campaign 2015
View videos on the subject of Think Before You Let Them Drink:
Think before you let them drink
Date: 2015 May 06
Contact: Cst Jeff Palmer
Telephone: 604-925-7429
West Vancouver Police are teaming up with Vancouver Coastal Health and our North Shore Policing and School partners to counter youth drinking.
At the official campaign launch today in North Vancouver, 18-year-old Zak Saint-Onge courageously shared his personal journey from alcohol experimentation at age 12 to life changing addiction at age 15.
Click here for more of Zak's story and courage to find recovery
While his is a story of extremes, unfortunately it is not completely unique. A West Vancouver student health survey found that a full 80 per cent of youth obtained alcohol directly from an adult, whether it was a parent, sibling, friend or stranger.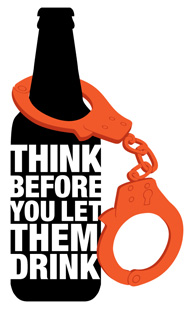 Focusing awareness on stories like Zak's is at the heart of the annual 'Think Before You Let Them Drink" Anti-Bootlegging Campaign.
Launched in 2009, as a partnership between West Vancouver Police, schools, and health authorities, the campaign quickly broadened to a North Shore wide initiative. The annual campaign urges adults to understand how their contribution to underage drinking exposes youth to life endangering risks.
"This campaign is so important," says VCH Medical Health Officer Dr. Mark Lysyshyn.  "It reminds the community everyone has a role to play in protecting vulnerable young people from the harmful effects of alcohol."
The 'Think Before You Let Them Drink' campaign is supported by West Vancouver Police, North Vancouver RCMP, West Vancouver Schools, North Vancouver School District #44, the City of North Vancouver, the District of West Vancouver and Squamish Nation.
Click Here To Visit Alcohol Sense, for online resources to help parents maintain healthy connections with their children so they can make healthier decisions around alcohol.
Contact the West Vancouver Police Youth Liaison Section at 604-925-7300 for information.