A passion for people
December 16, 2015 - 8 minutes read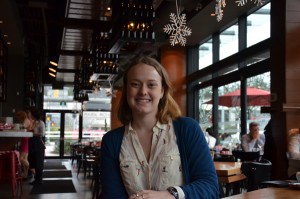 Lauren Bauman, a 2015 Rockridge graduate, made every moment count during her high school years. Often at the school from 7 am to 7 pm, Lauren's teachers and fellow students knew they could count on Lauren to bring an idea to life. Since graduating in 2015, Lauren has slowed her pace somewhat (and given what she's accomplished, it's sure to be a temporary state), but the passion she has for people hasn't faded a bit.
"The most rewarding part of my time at school was the involvement and relationships I built with my teachers, which evolved like mentorships," says Lauren. "Since graduating, I've seen many of them for lunch, coffee and other social occasions, and I guess I didn't realize, with all the extra-curricular things I did while a student, how special the relationships actually were until I left the school."
Her list of accomplishments is long, including: A gold Cord for Honours with Distinction, Certificate for Outstanding Service, the Theatre Company's Book Prize, Principal's Award of Merit, the Rockridge Prestige Award, The Rockridge Environmental Leadership Scholarship, a Dogwood District Authority Scholarship, a Canadian Federation of University Women Scholarship, the Jim McCarthy Coho Society Scholarship, a Directors Guild of Canada Scholarship and a multi-year award at Quest University in Squamish.
All this earned recognition means that Lauren's first year of tuition is covered and her high achievement and advanced credits in the Advanced Placement program have allowed her a well-deserved term off of academics this fall. The ongoing award through Quest University, where she will begin classes in January, also means she will only need to cover off about half of the required tuition through years 2-4.
Lauren will be the first student from Rockridge to attend Quest University, an independent, not-for-profit secular university in Squamish. The university offers only one degree, a Bachelor of Arts and Sciences. With an average class size of 16, and a personal faculty advisor assigned to each student, Quest focusses on imparting important, transferrable skills such as critical thinking, communication, integration, research and ethics and fosters international perspectives with a diverse student body.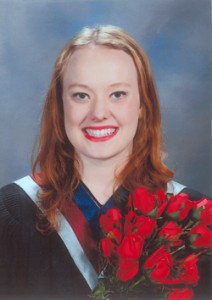 Lauren's service to her school and community has had a lasting impact: in addition to her work with the Rockridge Environment Club and involvement with student council, Lauren took responsibility for heading up the Council of Rockridge Executives (CORE). The group, comprised of the executive leaders of all the student clubs at the school, met regularly to plan activities together, combine fundraisers and share resources.
"This group was great because it took the competition out of student club activities – all the money raised goes to a good place – so we would meet to find ways to work together across the school to get the most out of student giving projects, and we even had a mentoring function, to help new clubs become viable and functional as quickly as possible," explains Lauren.
What is striking for Lauren is that, while she knows she thrived in high school and absolutely loved it, even an extrovert needs balance.
"Everyone has interests that can make them passionate about life," says Lauren. "I really loved people, planning and creating things – making a difference – that's what I got into at high school, and the more I did it, the more people I met, and the more interesting things got."
After six months 'off-duty', Lauren says she's benefitted enormously from some down time following high school.
"I have more energy when I can establish a balance between sharing my passion with others and spending time on my own. I can be that person when I'm in that environment – but I don't know how healthy that is. Going forward, I will want to watch out for that."
Lauren, whose sister is currently in Grade 11 at Rockridge, began with West Vancouver Schools at Gleneagles Ch'axáý in Kindergarten. In addition to her work at the school, Lauren also spoke at the first TedXWestVancouverEd event in 2013, following a trip to India, where she worked with other students in a rural village. At the end of Grade 12, she worked with Sole Girls, a local organization that empowers girls 9-12 years old using creative exercise and discussion techniques.
"I'm lucky, because a person can really shine in a high school environment doing what I love, which is to work with people for change," says Lauren. "I wouldn't change a thing about my school experience, but I do wish everyone could have more than just a place where they feel they're getting 'marked' – when you are excited you are always more willing to put up with what you 'have' to do to be part of something bigger."
Lauren teaches figure skating and, while she doesn't yet know what her 'job' will be, she does know what it will look like.
"There's something about seeing the progression of someone who depends on you – I really look forward to seeing that," explains Lauren. "You get your own class, and there are a million ways you can go about organizing it – you have the freedom to try new things, see what works, share ideas with others – being around people, work with a lot of flexibility and the freedom to try new things will definitely be part of what I eventually decide to do."
Both of Lauren's parents are in the film industry, where she worked for a time as a production assistant after graduation. While she found the role too rigid, she knows it's full of creative opportunity for those who want to pursue it and go the distance. What she thinks is most important though, is that kids find people they can learn from.
"Try to hook up with people early on who you think you can learn from," advises Lauren. "There are so many amazing people that have vast interest beyond their teaching expertise – so connect with someone who cares, who interests you, who inspires you and who can get you excited about school. I truly believe there is someone like that for everyone at every school in the district."
Clearly, Lauren will always be learning and giving to those around her. Congratulations on your accomplishments and we look forward to seeing you thrive at Quest University and beyond.