Strong relationships can lead directly to improvements in education
November 26, 2015 - 4 minutes read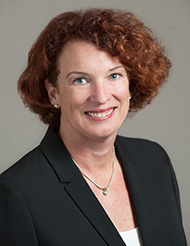 By Carolyn Broady, Board Chair
Beyond the day to day activities taking place in our schools, a lot goes on behind the scenes to protect and enhance the fine reputation we have in West Vancouver Schools as an innovative and high achieving school district, where we continually promote and encourage new opportunities in our schools and for the students and staff we serve. While the current Board of Education reflects on our accomplishments during our first year in office, we are continually reinforcing established relationships with community partners and looking for opportunities to forge new ones. The recent federal election and the appointment of a new Minister of Education provincially have provided our Board new opportunities to reach out regularly to our community partners to improve governance in education.
Very shortly, we will have the opportunity to meet with our new Minister of Education, the Honourable Mike Bernier. Minister Bernier brings with him many years of experience in politics, and is familiar with a range of issues of importance to the economic and social health of our province. When we meet for a discussion and tour of West Vancouver Schools next week, we will have the opportunity to highlight some of the achievements at two of our schools, discuss the Board's strategic plan and explore opportunities for collaboration on issues that are important to students, staff and parents.
One area that we'd like to explore and encourage collaboration at all levels of government is in the area for English Language Learning (ELL) resources and support in the district. This discussion aligns very well with our strategic goal to support community evolution, and the government's continuing efforts around improving educational excellence. Together, we hope to continue to leverage resources and support in the classroom to improve the learning experience for all students. We will also address opportunities and concerns for work around shared services with other districts, which may lead to cost savings and/or productivity improvements.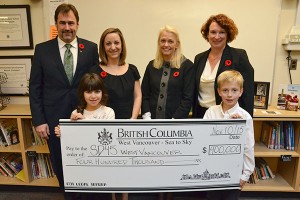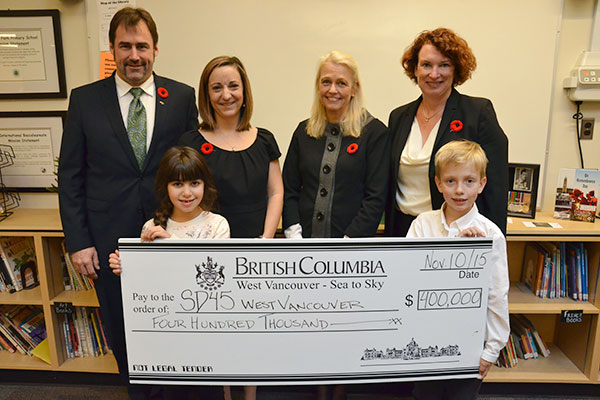 Our solid relationship with political leaders in Victoria strengthens the work we've done over the past year with our local MLAs and brings direct benefits to everyone with a stake in learning and working in our district. Just this month, we received the great news that the province has committed $131,000 in infrastructure funding to purchase a new HVAC unit at Caulfeild Elementary school, $200,000 for upgrades at École Cedardale and $400,000 to replace the boiler plant and improve ventilation at Cypress Park Elementary school. The funding will help the district reduce emissions, improve air quality and extend the life of equipment essential to healthy learning environments.
At the federal level, we reached out very quickly to our new MP, Pamela Goldsmith-Jones, who hopes to meet with us before the end of the year. I am confident that her knowledge of the local community will bring many more opportunities to work together to improve the lives of students and families who rely on our strong public education system.
In troubled times, we have often said that relationships are a critical part of the success story in West Vancouver. But there are also huge opportunities to build those relationships in times of relative stability, and this is particularly true when the political ground shifts. Reaching out early, and often, to discuss our strategic priorities ensures that long term, visionary governance in education pays off every day, year after year, for the students and families that choose West Vancouver Schools.