The Front Line – Jodi Dawkins
November 25, 2015 - 7 minutes read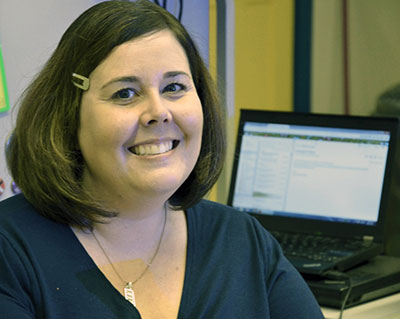 Planting a garden, one seed at a time
As the first adult to provide major guidance to a child outside his or her family, École Pauline Johnson Kindergarten teacher Jodi Dawkins knows that she plays a huge role in the lives of those in her classroom. It's a job she embraces with the dedication, skill and enthusiasm that makes special teachers memorable for a lifetime.
Her effort on the job pays off in spades, not only for her students and families, but for her own level of job satisfaction. She relates the story of her class's participation in the school's special work around a program called 365Give, where students try to do something nice for people, animals and the environment every day. The students in her 2014 class chose to support an injured blind sea otter at the Vancouver Aquarium, raising $260 by doing chores at home. They talked about him constantly, drew him at every opportunity, and even got to visit the aquarium to present their donation to Wally personally.
This past year, four of her former students, now in Grade 1, shared a birthday in October. Instead of asking for presents, they requested donations for Wally, and took their birthday money to the aquarium to present the donation.
"It was such a wonderful reminder for me of what young children are capable of doing if we give them a chance to develop a passion for something," says Dawkins. As a teacher, I didn't have to do much other than plant the seed and guide them a little along the way – the children's excitement took care of the rest."
Dawkins recounts another heartwarming story about a conversation she had with a class on Terry Fox in her classroom as an example of the kind of special moments she experiences on the job.
"As normal Kindergarten conversations do, the kids veered slightly off course," she recalls. "In amongst choruses of 'I saw a man with no feet once!' and 'my mom knows a man with no arms!', one little girl said, "My dad knows someone who has 6 fingers on each hand!' – and without a single pause, another boy said, 'cool! That man can count to 12!!' – it was such an innocent and sweet example of how little children can put their own perspective on anything."
The rewards of teaching flow in other directions as well, in part due to the fact that she gets to introduce children to the French language, in which she herself was immersed from Kindergarten through graduation.
"There are countless rewards to this job, but listening to my students pick up the French language is such a great experience," says Dawkins. "Seeing a child's wonder when they are able to master a skill that was once difficult for them is also always very gratifying."
Dawkins has been teaching in the district for 10 years, all of them at École Pauline Johnson. Her passion for teaching – and specifically – for working with children aged 3-7, flowed naturally for her, since she offered private music lessons in her early teens.
"From that point through to high school and during my undergraduate degree, I worked in recreation centres, running summer camps for young children," says Dawkins. "One of the great things about teaching is that every day is a little different, even when you're following a schedule."
Working with 22 children each day does present its challenges however, especially when trying to determine what's best for each student's learning profile.
"The most challenging part of my job will always be how to meet all of my students' individual needs within time constraints," says Dawkins. "Finding the right balance between free exploration, play and concrete instruction, amidst all the other daily interruptions can be tricky."
Dawkins enjoys connecting with her colleagues at the school and getting to know the kids and their families. A typical day in the classroom begins with a fun activity at the beginning of the day to chat and practice some new skills. Dawkins explains that young children are generally more comfortable and successful following routines, so she starts their day by explaining in broad strokes how the day will go, and sets aside lots of time for movement and song.
"My students pick up the French much faster by singing melodies," says Dawkins, who earned her degrees in music and teaching at UBC. "I try to keep the morning for curriculum instruction and exploration, then save the afternoons for rest, lighter curriculum, self-regulation and free play time."
As someone with 10 years in the district, Dawkins says that making connections with colleagues who share similar interests is an important part of success.
"There are some truly incredible and innovative teachers all around the district – don't be shy to seek them out to share ideas or ask questions," advises Dawkins, adding that it's important to ask for help if needed, because the chances are good that someone else has come up against the same problem.
Dawkins enjoys spending time with her family and is currently pursuing a post-graduate diploma at SFU in Reggio Emilia-inspired classrooms. Along with her degree in music, she holds an Early Childhood Education diploma from Capilano University.
Hundreds of 'seeds' have been planted in the 10 years Dawkins has been with the district, and the garden she's planted is definitely flourishing! Thank you for your work and dedication.