Tacking a course through adversity
June 9, 2016 - 12 minutes read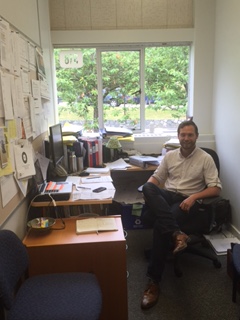 Life has brought a full slate of changes for Sentinel Secondary's Scott Bruce in the last decade or so. From a near-death experience to a new profession, a new home and a new baby, this counselling star has taken many steps to ensure that the winds of change have been tempered, and has adjusted his sails accordingly.
Scott did not always plan to land where he is today, but he decided to pursue teaching after completing his first degree at UBC in 2005, on the advice of a friend who had applied to the education program at UBC. Scott had always enjoyed sports, and spent a lot of time coaching hockey and rugby as a volunteer, so it seemed like a natural fit.
"I love working with kids, so I applied to the education department in 2004, then landed a practicum position teaching PE in Coquitlam in April the following spring, which incorporated my athletic background."
Scott's life seemed set, when tragedy struck in November, 2005, just a month shy of his 25th birthday and one day before he would have attended his education grad ceremony at UBC.
"Two months after completing the education program, I had a stroke, says Scott.
The road to recovery was long.  After an 8-hour brain surgery, Scott spent two months in hospital and underwent extensive physiotherapy, while in a wheel chair.  During this time he started exploring counselling programs.
"During my recovery, I received a lot of support for my recovery at GF Strong, in my home community and from my friends and family," says Scott. "I needed a cane to walk for another year, and during that time I connected with a vocational counsellor at GF Strong, who mentioned counselling as a potential fit with my skills, given that I connected with kids so well."
"The support that I got from the staff at GF Strong was amazing, and my family and community really rallied around me during the recovery," recalls Scott. "I had a 15% chance of surviving the brain surgery, so I really had to put a lot of time in to physical therapy – that's pretty much what we did all day, except for breaks to eat and sleep."
Today, Scott recalls how amazed he was that the brain knows what's happening around the body instinctively, and the body responds automatically.
"I really noticed that a couple of months after the stroke, I'd walk into a busy restaurant and I was aware of other people to a huge degree – I immediately tensed up and felt more uncomfortable," says Scott, who also described how his left hand would close in response to stimuli presented well ahead of when the object was within reach during the early days at GF Strong.
Scott returned to teaching at an alternative school in Burnaby in 2007, while completing a Diploma of Education in Guidance Studies and Special Education. He began working in West Vancouver in 2011, at first as part of the district's student support services team as a behavior transitions teacher (BTT), and then at Sentinel Secondary as part of the guidance counselling team. In 2013, he earned his Master of Education in Counselling Psychology.
"Each position helped me to connect with students and develop ways to promote student success," says Scott. "The BTT position enabled me to work in almost every school in the district and to develop very specialized programs for youth who were really struggling in school. The counselling position, on the other hand, has provided a home base at Sentinel and offers the opportunity to connect with students on an ongoing basis."
Scott has been involved in many district and school projects, including the Post-Secondary Transitions Committee and the Super Achievers program. But one special project close to his heart is the work that he does with the Sentinel Boys Club program, which meets weekly to support male students who may not be feeling connected socially and emotionally. The club has an active membership of about 30 kids in grades 8-12 who attend for the connection.
"One boy in particular who has struggled in school in the past was very articulate, clear and organized: to see his transformation in the last six months has been very amazing – at the meeting he said that he came for the pizza and stayed for the boys."
Scott says that kids who feel disenfranchised or want to connect with other students are drawn to the club. The club offers a network of support that is powerful enough to motivate the kids to follow through and commit to a course of action, because through the club, they find others that they trust, who depend on them.
"A lot of Grade 8 and 9 kids have not found that connection yet, and some are wandering the halls on their own, not having a peer group," says Scott. "Through the club, they get to interact with other kids, including older kids. Some of the young kids are strong academically, but are not socially well connected. Older kids feel a sense of gratification knowing that they are helping out so that the younger ones don't make the choices that they've made."
The boys club has evolved to meet the dynamic needs of Sentinel students, evolving into a leadership group that comprehensively explores various social justice issues. After hearing about the plight of Syrian refugees from supporter Frank Giustra, four of the boys organized a provincial walk-a-thon, Steps for Syrian Refugees, which took place on June 1, beginning at Ambleside Youth Centre. Hundreds of boys from chapters around the Lower Mainland participated in the event, walking for 5 km to build awareness and raise funds for the cause.
"Our students are changing the world," says Scott. "I had one student arrive at Sentinel in Grade 10 after a year in a treatment program for heroin addiction. This student worked extremely hard and was able to graduate in good academic standing. He's taken a gap year and is now working towards attending university."
The boys have had opportunities to meet with many of the Vancouver Canucks, including Trevor Linden, Dan Hamhuis, Pavel Bure and Ryan Millar, who do locker room sessions with boys' club network members around metro Vancouver a few times per year. The boys also hear from men who have overcome a lot of adversity in life, and the stories they tell resonate deeply. Discussions are currently underway at the school to launch a similar club at the school for girls.
Scott says he feels very blessed to be working in a supportive and innovative district like West Vancouver, and says that anyone new to the district will do well if they get involved.
"West Vancouver Schools offers many initiatives to cultivate learning and connect with other teachers in the district, with students and with other schools that lead to new opportunities for professional growth and greater satisfaction."
While his job is deeply satisfying, Scott says the typical day for a school counsellor is a bit of a whirlwind. He is grateful that the school has an excellent counselling team, supported by an understanding administration and an outstanding teaching staff, which enables counsellors to focus on students needing additional support.
"On a typical day, we may have 1-2 meetings scheduled with parents or other stakeholders, buttressed by youth dropping by the office to make course changes, discuss a class, inquire about university requirements, discuss something that happened on the weekend, resolve a peer conflict or deal with anxiety as a result of pressures from school, home or community. Amidst all this, we try to find time to complete the administrative duties that counsellors organize to support students."
In the last year, life has changed a lot for Scott, with a move to Gibsons, where he commutes to work with teachers Christian Obeck and Aaron Fuller.
Scott and his wife are also new parents, with a little girl who is nine months old, and full of the energy typical for children her age. Her parents love her sense of humour, which is already becoming apparent, when she wakes early and grins when she realizes she has their attention.
"She's just learned to crawl and has two top and two bottom teeth," says Scott proudly. "One of the best parts of the day happens around bedtime, when she gets tired and just nestles in to your shoulder."
It seems that Scott, having overcome his own adversity, is doing the work he was meant to do. From the district's perspective, we are grateful for your many gifts, and the generosity you show in the course of the work that you do every day. It is truly life-changing.