Start early for excellence
June 9, 2016 - 11 minutes read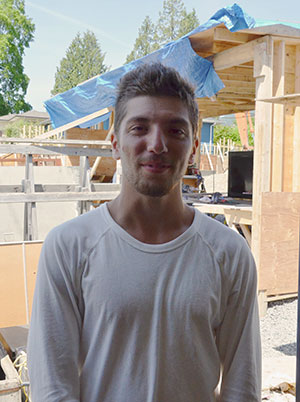 He may be on overdrive as he pursues his chosen career, but WVSS 2015 graduate John Guremel isn't the kind of guy to cut corners. In fact, at just 18 years old, he's currently cutting round walls as part of his apprenticeship in carpentry. Most apprentices don't get exposure to that kind of craftsmanship so young, but John has steady vision that goes beyond attaining his apprenticeship, and has done the research to reach his goals as soon as possible.
Having completed his second year at BCIT towards his Red Seal qualification, John is racking up the hours on a 27,500 square foot residential construction project across the street from WVSS. It's the biggest job he's been on so far, but he was working on local construction projects to build his hours before he even graduated. Apprentices require 6,480 hours on the job to qualify as Red Seal, but through the ACE-IT Carpentry program offered at WVSS, John is already more than a year ahead of most guys in his classes.
"At 18 years old, having this kind of construction on my resume, I'm quite happy," says John, who finished his second year with a 91 percent average at BCIT recently. "As an 18-year old, I know how to build round walls. In many smaller framing companies, I haven't seen many round walls being done, so you usually wouldn't get a chance to do that. I'm proud of that and it looks nice on my resume."
John, whose plan is to become a construction manager, says many people were involved that helped him find out not just how reach his goal early, but also to determine which educational pathway would make him one of the best in the business. Among his early influences was his father, who although he wasn't in the same field at all, watched his son flourish creatively and spatially using Lego pieces.
"My father would buy a box of pre-constructed Lego toys from time to time, and he saw how I developed by using my imagination, working with my hands and demonstrating patience," says John. "He didn't buy them every day, so I'd take them apart, refit them with the other pieces I had and come up with something entirely new."
John, who commuted from Vancouver to Hollyburn elementary beginning in Grade 6, got involved in woodworking when he joined WVSS in the eighth grade. His dad encouraged him to listen to the ACE-IT presentation when it was introduced at the school for the first time in his Grade 11 year. The classroom component began in Grade 11, with the option to continue the program through a work apprenticeship the following year, guided by teacher Greg Cormier.
"At first, I wasn't sure I wanted to take it beyond Grade 11," says John, who ended up taking architecture — and excelling in the class — with Cormier in Grade 12 as well. "Until second term in Grade 11, I was just another boy attending his classes – I really wasn't looking far into the future, but then I thought to myself, 'why not try harder and go deeper?'"
That decision put John on the path to becoming a construction manager, and he began to plan his education by getting some advice from some local business and academic heavyweights.
"I could have done architecture or engineering, but after speaking to Randy Callahan, a foreman for industry leader PCL as well as the head dean for construction management at BCIT, I learned that the best construction managers generally start as carpenters."
John could have taken a short-cut to becoming a construction manager, but he wanted to keep all doors open.
"I really looked at the construction management courses – I wanted to do the two year architecture diploma, but I do want to know my area 360 degrees so that I can be the best construction manager there is. I want to know that when I look at a project, I can see what they're doing top to bottom, but all of that starts with the framing."
John decided that a longer pathway, done as quickly as possible, would help him achieve his goal of being the best construction manager he could possibly become. He spends the 12-week classroom component of his carpentry program taking the bridging classes that will get him into the construction manager's program as soon as he can, and will be taking physics as well, to keep all options on the table.
"I take carpentry for seven weeks from 7:30 am-1:30 pm, and attend the bridging classes, which run for 12 weeks, from either 3-6 pm or 3:30-6:30 pm, which means I'm there for 11 hours on certain days," says John. "But I thought – why not take it up a notch – who wants to lose another year in school, when you can do all that at one time?"
John has high praise for the program and the teacher who pointed him in the right direction. He says that Greg always told him to listen carefully, because the words he had to say were gold. He's glad that he realized in time that the lessons learned from those with experience because repeating what you know is not as valuable as learning and applying the lessons they can teach. Today, he says he'd choose to sit with his bosses for an hour more at lunch time to see how they solve problems, rather than missing out on that valuable information just putting in time.
"Mr. Cormier was an excellent teacher – a one-of-a-kind guy who has helped me a lot," says John. "I learned that later on when I started listening and not just looking at the board. What's great about the ACE-IT path is that you can save money and time – I was the only 17-year-old at BCIT in 2nd Year Carpentry."
Saving time and money is, for many students a big draw to the ACE-IT program, though John earned his tuition as well as he did his apprenticeship in Grade 12. In John's case, he got two scholarships, each worth $1000, which helped him pay for 2nd year tuition.
"What's really good about doing this program in high school is that you save about a year's worth of school at BCIT, plus get to save about $2000 in tuition [by taking the 1st year of the program while in high school] and learn while you're young, when you learn most easily," explains John. "The program is headed by an excellent teacher and the classes are small, to allow for hands-on learning."
Many students can attend university and still end up on the same path, but John, who has arranged several tours for Greg and his current students, says there's something very authentic about a program that offers students an opportunity to see him working 10 hours in the rain, versus sitting in a classroom.
"If people want to get into engineering, and university is the path they want to take – then go for it," says John. But don't do it just to get into a specific school – I know students in my current classes who earned their bachelor's degrees at UBC, and in the end they still decided to pursue carpentry."
John, who was captain and assistant captain of his U18 gold soccer team, hasn't got a lot of time these days for the sports he pursued in his high school days, but he says that due to a shoulder and back injury, playing at that level wouldn't allow him to stay as physically strong as he will have to be throughout the next few years anyway.
"In my spare time, I do a lot of research on international construction because I would love to travel and work. I would like to branch out into commercial towers, because they are mega structures that interest me, especially those that are uniquely designed. I'd have started in commercial construction, but you're one of a thousand on a crew, so there's less of a chance that someone will take note and realize that you're excelling. You get a lot more help and teaching moments on an everyday basis in residential construction, and get to learn new things more often, which is a lot more interesting than pouring the same floor every day on a new level in commercial construction, in my opinion."
John, we wish you every success, and are pleased to see how well you are putting to use the skills you learned at WVSS. We look forward to hearing more about you in the years to come.