Guiding Discovery
May 12, 2016 - 8 minutes read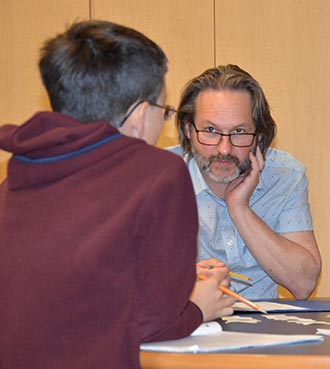 Roland Samson is a special teacher, in part because he's rewarded most when he does the least he can. That's because independent discovery, using the tools and guidance provided by the teacher, is one of the most important concepts behind the philosophy of the Montessori method, where Roland teaches Grades 4/5 children at Eagle Harbour Montessori.
This doesn't mean it isn't a challenging assignment – if anything, the versatility required in such a setting demands a special kind of educator who can provoke discussion, and provide just the right amount of guidance to stimulate independent thinking.
"It has happened that I'll present addition in three different ways to three different groups of kids during the same day, because each set of kids is working at different levels of sophistication with the concept," says Roland. "Keeping up with the kids, meeting them where they are really keeps me on my toes!"
Six years ago, Roland joined the staff at the school, bringing with him his Bachelor of Education at UBC and a two-year program in the Montessori method which was offered through the Vancouver School Board at the time (6-12 AMS certification). Roland says that for anyone unfamiliar with the Montessori approach, a typical day in his classroom might even look chaotic.
"In the Montessori philosophy with kids at this age, it is expected that they will be chatty, working almost exclusively in groups, sharing ideas, collaborating, working things out as independently as possible," explains Roland. "Most days I am very busy meeting with groups of kids as they need lessons in various subject areas."
What is right for one group or individual, isn't necessarily right for another – even in the same subject area, and it means that each student is learning at their own pace. One of the major challenges of his job, says Roland, is to marry the traditional curriculum with the Montessori approach.
"In Montessori we don't "teach" the kids lessons, in for example, the areas of math and geometry, grammar etc.," says Roland. "Instead what we have are tools (in math the Stamp Game is one such tool). As the teacher, I would demonstrate how to use that tool for that lesson and then let the kids go from there to learn the concepts imbedded in the tool itself and the work that goes along with the presentation."
"Maria Montessori developed a well thought out, comprehensive curriculum that spans the ages from 3 years old to 12 years old. In many ways her curriculum inverts the learning of our traditional curriculum," he explains. "Our role is to meet the students where they are in their learning and challenge them to move on. Practically speaking this can mean I'll offer a math lesson, for example, to one student because of where they are in their learning of the materials and ideas. It can be a challenge to meet all the needs in a class."
Indirect consequences include the development of a well-honed independent learning style. Kids learn to trust their own perspective and achieve milestones at their own pace. They also learn valuable skills about how to find solutions, and work with others.
"Most of the time I answer a student's question with, 'What do you think?', or 'Is there another way to do it?', or 'I don't know, why not try it and tell me what happens'", says Roland. "It's clear that sometimes they are frustrated by this, expecting that I'll give them the 'right' answer, but in Montessori, that struggle is part of the curriculum. Of course, this can mean that a Montessori student may take longer to learn some single concept, say division, but the learning that occurs in terms of how to think, how to investigate, how to teach yourself to learn and understand, and how to manage frustration and confusion is a layer of learning that is both remarkable and unique to a Montessori classroom."
While challenging, there are many rewards to this method, and to teaching in general, something he has shared with family and friends who know that teaching involves far more than sitting behind a desk handing out work sheets.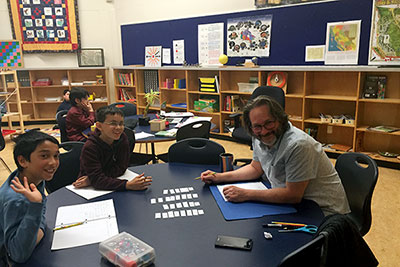 "When I see and hear kids seeking out each other for guidance, and then receiving it, I feel rewarded," he says. "When I hear and see the collaboration that occurs between students and groups of students, whether working on large projects or small assignments, I again feel rewarded."
Roland values West Vancouver Schools for its support of unique ideas, talent and specialization, and says that new teachers should consider their own passions, ask themselves what drives them and then offer that to the students in the community. He is especially pleased that the district supports funding for teacher-driven innovation in education, and points to the past three years as an example of how the district supports the drive to bring richness to schools not easily found elsewhere.
"I have seen these innovation grants really engage and inspire teachers to broaden the scope of their teaching," says Roland. "I also appreciate the parent community – these folks are always ready to jump in to support schools with their hands and their hearts."
What does he love about teaching? The laughter and the special connections, the passion and dedication that fills the heart of every teacher – these are all tied in terms of the rewards he sees from his job.
"It may be trite to say, but each kid is special," says Roland. "I love those times when I am simply chatting with a student and that moment comes when the barrier between student and teacher, adult and child drops, and you're just talking. "Everyday is both maddening and delightful – and I think this is one of the best things about this job."
While all jobs carry some degree of stress, Roland says it helps to encourage humility and laughter in the classroom and to have connections, healthy hobbies and strong support at home. Married with two kids of his own he loves to read and is currently working on an extensive 'intervention' with his yard – though he says the resulting yard work isn't as conducive to relaxation as he'd like. He also enjoys bike riding, hanging out with family, running with his wife and brewing his own beer.
We are so pleased to have you share your special perspective with so many students at West Vancouver Schools. Thank you for all that you do!