Career change inspired by desire to support kids
May 11, 2017 - 6 minutes read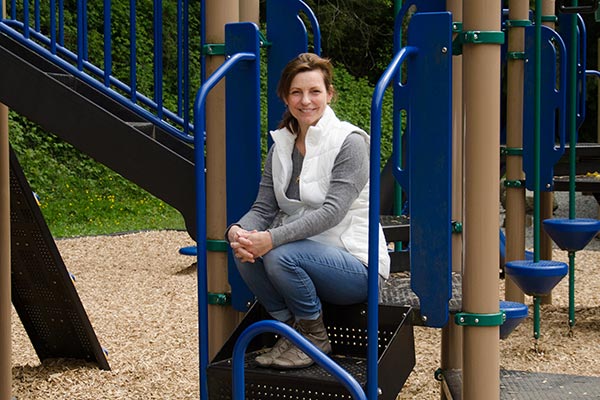 Leslie Elliot, an education assistant at Eagle Harbour Montessori, made the move into a new career five years ago, after an injury made working full-time in her former job impossible. Facing two herniated disks and raising a daughter on her own, it didn't take long for her to funnel her passion for volunteering at her daughter's elementary school into a new career. After a very intense and comprehensive stint at Langara, Leslie applied for her first on-call placement with Eagle Harbour Montessori and never looked back.
"I struggled in school socially, and decided to do this to support kids," explains Leslie. "I did an art project on Amanda Todd in Langara's EA program, using the same format that she did to deliver a message on bullying, using placards while someone filmed me to get the message across. There's one thing I won't tolerate now, and that's social exclusion of kids under my care. I also worry a lot about the person doing the bullying, because happy people don't pick on others."
Leslie says that the Montessori format is often a good fit for kids who need extra support, and younger children are somewhat easier to work with, because older students often have a harder time accepting additional help.
"I did my practicum at a high school, and a lot of high school students are embarrassed about needing support," says Leslie. "Montessori is helpful because these students are all working at their own level, so it doesn't hold them back, unlike other formats, which often mean they're swept with the river of progress taken by other members of the class. They also have math to do every single day, which I think is important to build a good foundation and strong memory."
As an education assistant, a typical work day is very fast paced. Leslie works with children in Grades 1, 2 and 3, which means that she's dealing with children in three different age groups, and each student works at their own level.
"That's the beauty of Montessori – students work at their own pace and level," Leslie explains. "We start our day with circuit and Mind-Up to get students ready for the day, and the first job is getting the students set up with their work charts, which helps them decide what their first task will be."
The ability to multi-task is a big part of her job, because this role requires a person to be ready to switch gears at any given time according to the child's needs, while also tracking behaviours in students and supporting special needs around academic learning, social emotional issues or physical difficulties.
Leslie says that instilling new behaviour and mitigating undesirable behaviours that can negatively affect student learning is one of the most challenging aspects of her job. But her ability to think on her feet in a fast-paced environment, and use the right strategies at the right time, is key to her success and personal satisfaction.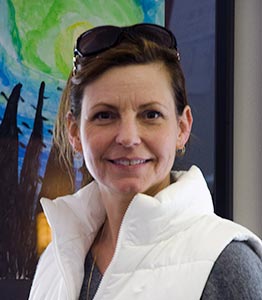 "In some kids who are struggling academically, certain 'escape' behaviours will come up, such as pestering or distraction," says Leslie. "My job is to work with them to the point where I'm no longer needed for that kind of thing – so in essence, success is about fading myself out of the picture. Change is hard for everyone, and so I try to think about this from their perspective when I'm trying to change behaviour – it is so much harder for young people, compounded by any other issues they may be facing."
Recently, Leslie witnessed a sweet interaction between two students, one of whom she has worked with since kindergarten. The other student, upset during a PE class, left the gym frustrated and upset. The child she has been coaching for some time approached the child having difficulty to see if they were OK.
"I gave them a minute or two, and then went to check in. I found them both sitting on a bench in a quiet spot and overheard the solid advice and strategies being shared that have worked for them. I have to say it brought a tear to my eye."
Leslie, who resides in North Vancouver, is very proud of her daughter, who will be entering Grade 12 French Immersion this fall and is doing her Grade 6 Royal Conservatory piano exam in June. The pair hike and walk together, as they've done since she was 6 months old.
"I am so impressed with her commitment and dedication," says Leslie, whose example and enthusiasm clearly shines for her daughter and the children that she works with every day.
Thank you for your dedication and support, Leslie. We wish you every success as you continue to offer support and encouragement to children and colleagues.