All round talent
December 16, 2015 - 2 minutes read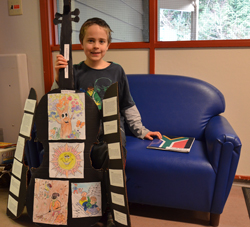 Marten Dommann, a Grade 5 student at Eagle Harbour Montessori, is an inquisitive, thoughtful and kind young student who knows how to laugh at himself, says his teacher, Roland Samson. More than that, Marten, even at this young age, has a philosophical and athletic side that promises to become more interesting as he moves through his school years. His talents – from music, to athletics, writing and research – keep him busy and happy.
Marten, who moved from South African to Australia and eventually, to Canada with his family, competes occasionally as a triathlete. His also swims competitively, participates in cross-country activities in season, and is an accomplished pianist.
"I like everything about Eagle Harbour Montessori, really," says Marten. "All of the classes are really interesting, but I probably enjoy science the most."
Marten's parents are both trained in medicine, and he says he may be interested in that himself, one day. But clearly, this young boy could do anything he wants. His inquiry projects are well-researched and show a level of written sophistication rarely seen in someone so young.
For Marten, who clearly loves to direct his own projects, the school is a great fit for his busy mind.
"I love that you can do your work at Eagle Harbour Independently. You have open block time, so you can do your work in many different places – I like how everybody's nice and friendly – because it's a small school, everybody knows one another."
Marten swims five times per week, three times in the morning and the other days after school. He is part of a swim club in North Vancouver, where he resides with his parents and two older siblings, who also attend school in West Vancouver.
The Dommanns' two elder children attend Sentinel and the plan is the same for Marten, who will first absorb a second language at École Pauline Johnson for Grade 6.
In his spare time, Marten enjoys reading, writing and playing soccer and football with neighbourhood children.
Wishing you and your family the best of the holiday season, and looking forward to seeing you grow with us at West Vancouver Schools.