A work of the heart rendered in art
January 21, 2016 - 6 minutes read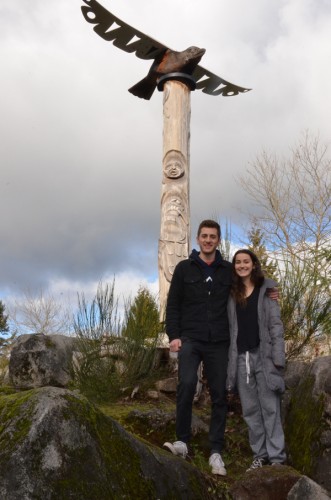 If talent is innate, Emmett Sparling and Rachel Beechinor must have been born with a double dose. The two Grade 12 Rockridge students began a journey in October 2014 that will culminate on January 30 with the screening of their narrative film, Brain Maker, at the Kay Meek Theatre.
The film tells the story of Emmett's father, who was diagnosed with a brain tumour months before his son was born. Rather than give up and accept the grim diagnoses of three Canadian neurosurgeons, his father was determined to find a solution to save his life. Through a network of friends and supporters, Emmett's father was eventually offered the chance for a risky surgery. By drawing from inspiration in his own life, he was able to overcome his fears by imagining he was an astronaut. The surgery was his mission, and there was no room for failure.
Emmett has honoured his father's story by creating a short film about how his father faced something that was seemingly impossible to overcome. His father has been an inspiration to so many, and Emmett hopes that this movie will be able to bring the story to a wider audience and inspire even more people to find their own inner strength.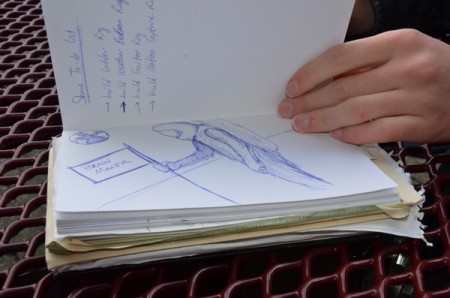 Emmett's story is a unique one as well: discovering the power of images early on, Emmett tenaciously mastered the techniques to produce high quality photographs and video. Self-taught, he has competed and won many awards for his work over the years, and works as a professional freelancer for the Bowen Island Undercurrent and a number of other publications. He has been offered a full scholarship at VFS, but hopes he will get an offer from the University of Southern California. His work with Brain Maker's Executive Producer and fellow student Rachel Beechinor began in Grade 10. The pair would love to start a production company after they complete post-secondary school, but they both realize that they may need some work experience before that can become a reality.
"In Grade 10, Emmett made a 4-minute video called Somnium, in which I played a role. It won Best High School Experimental film in the International Student Film Festival in 2015," explains Rachel. "The filmmaking work began together after that project."
Rachel wants to work in the business side of film, and has plans to take flight after graduation in a business program in the UK or Canada.
As executive producer for Brain Maker, Rachel raised money through Indigogo by writing a pitch and promoting it broadly.
"We had a goal of $15,000, but we managed to reach $16,000, because funds trickled in after the campaign ended," she says.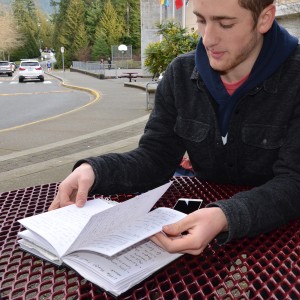 Rachel also took care of the pre-production details, organizing the crew to build a space capsule in Emmett's backyard, renting a spacesuit, building an operating room in her brother's former high school and turning Emmett's grandparent's home upside down to build a 1990s living room. The bulk of the funds were used to purchase large capacity 10-terrabyte hard drives to capture the high resolution video needed for the big screen.
They shot the film in August, 2015 and most of it went fairly well. However, a major glitch nearly put the project on hold.
"Forty Terrabytes of data isn't fun to deal with," says Emmett. "Two of our 10-terrabyte drives failed during filming, and we were told we'd need a few thousand more to retrieve the lost data. Luckily, we know a guy on Bowen who was able to do this for us for free."
If he had to do it again, Emmett says he would have shot the film in 1080 P Raw – but he wanted to work in 4 K raw – where 1 frame is 100 megabytes – so that he could edit extensively afterwords.
Although they started the project out of personal interest, when a teacher at Rockridge realized what they were up to, the school offered to give them an independent study block to complete production of the film. They wrote the film from October to May, did pre-production over the summer, and have been editing and adding sound this past fall.
In the film, an actor plays the role of Emmett's father. But his dad does make a cameo appearance as a brain surgeon. His father will deliver a short introduction to the film at the Kay Meek, and the screening will be followed by a reception. Tickets are $7 for students and $10 for adults – all proceeds from the film screening will be donated to the Brain Cancer Foundation of Canada.
For more information, and to support the film, please see the following links:
Trailer: https://www.youtube.com/watch?v=6wYYJmgnHm4
Tickets: https://tickets.kaymeekcentre.com/TheatreManager/1/online?performance=2499