A Helping Hand
May 10, 2016 - 5 minutes read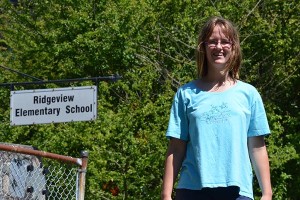 For Jillian Franks, helping out is a natural way to explore the world, connect with others and learn new skills. Giving generously of her time since she first arrived in Grade 4 at Ridgeview Elementary, Jillian's helpful nature will prepare her well as she transitions to Grade 8 at West Vancouver Secondary School this fall, where volunteering is a key part of the high school experience.
With an engaging smile, Jillian says she does so much because she loves the feeling that she's helping out.
"Working with kids and teachers who need my help really gives me a sense of accomplishment and connection," says Jillian, whose most recent experience included working the balloon station with a few of her friends at the community centre for the district's Ready, Set, Learn event on April 16. "We blew them up, handed them out and occasionally lost them – it was a great day!"
Her teacher, Cari Wilson, says that many of her students do tons of volunteer hours, but Jillian helps out with everything, and takes part in everything.
"She's played volleyball and ultimate, been an integral part of the choir and band (clarinet), been a big help in Reading Link Challenge and always helps with buddies and robotics," says Cari. "She manages to do all that while also maintaining good grades and showing a great deal of care and friendship to everyone around her."
Jillian, who moved from a local independent school for the fourth grade, also has a younger brother at the school and an older brother a year ahead, at West Vancouver Secondary School.
"The teachers at this school are very welcoming," says Jillian, who values the community feel of her school. "I live nearby, so I can actually walk or bike here, and that's been really great."
Jillian is busy outside school hours as well. This past year, she also supervised SPCA Pro D day camps after completing her junior counselling course over the summer of 2105, and is currently doing her Bronze Cross in swimming. While she's too young for the school district's First Aid Swim Training program, she will likely have her Bronze Cross in the bag before she is old enough.
"I do love volleyball and ultimate (frisbee) – I can run 100 metres pretty well, but then I need a break!" she says.
Jillian is looking forward to learning more applied skills in high school. She says her brother has really enjoyed carving, and while she's a little worried about going to a new school, she's confident that the environment will be stimulating.
"A lot of people are going to be new, and I'm a little concerned about the enormity of the change. There will probably be a lot more homework, but I'm comfortable with technology, and I know that will be very helpful."
The transition may be easier than it is for many kids in Grade 7, though, because she's already learning in a high school environment, through the Ignite Your Passion Speech and Debate program, offered at Rockridge Secondary School this year. She loves math, creative arts and languages, so is already thinking that a career in engineering might be the right fit for her, because she likes to see how things work.
Despite her busy schedule, Jillian takes time for what she loves, including her pet cat.
"I come to school covered in so much fur that it looks like I have five!" she laughs.
Jillian is also a very enthusiastic reader and says that her love of books can sometimes make her friends feel left out, because she's frequently engrossed in a book while life goes on around her.
"I guess my best quality is that I am very determined and really involved, which is cool, but my poor mom has three kids who don't help out as much at home as we could."
Jillian, you're always thinking of others and your teachers think you're pretty cool. That will take you far. Congratulations on your achievements in elementary school, and we look forward to seeing you make the most of your high school experience.