A Growth Mindset
November 25, 2015 - 4 minutes read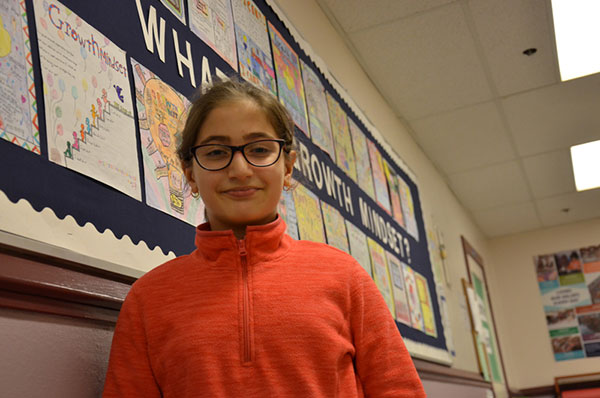 Romina Naderi has lost much of her sight due to a degenerative eye condition, but that doesn't stop her from embracing current opportunities and planning for a bright future. This year, along with some 60 other Grade 6 children, Romina, a student at Hollyburn Elementary, took part in Outdoor School.
Outdoor school is a rigorous program that takes place over two nights and three days. Campers learn outdoor living skills and take part in various activities, including high ropes, rock wall climbing, cycling and evening games, making this a physically challenging program for any student. Romina took it all in stride, working with her teachers and mother to carefully plan adaptations that would help her successfully take part in the program.
"As she matures, Romina is becoming increasingly independent and a powerful self-advocate," says Hollyburn Principal Tara Zielinski. "She accepts her challenges and works to apply technologies, strategies and adaptations that allow her to develop socially, emotionally, physically and academically."
A role model for many staff and students at Hollyburn, Romina is happy that she had the opportunity to take part.
"My favourite part was the high ropes," says Romina. "For this activity, many people open up their eyes and look down, but I closed my eyes and looked up instead – my eye teacher says that people who are vision impaired tend to go the highest, because they aren't tempted to look at the ground."
Testing her limits and inspiring others to try has been noticed by many who spend time with Romina, including her current teacher, Jeff Muthana.
"Romina made the most of each opportunity before her at camp and, in her efforts, encouraged others to find their own strength," explains Muthana. "Romina helped us to see that every test in our life can make us better, and that strength doesn't come from what you can do, but from overcoming the things you once thought you couldn't."
Romina's mother takes her to school each day from the family home in North Vancouver, along with her older brother, who attends West Vancouver Secondary School.
"At school, I love the opportunities I get to work in groups, learn from my mistakes and develop sportsmanship skills," says Romina. "I enjoy dance, gymnastics and math because [math] doesn't involve so much language – it's very logical and orderly."
On the trip, Romina took a magnifying glass, a monocular, an iPad with a zoom camera and her max event glasses – specialized, adjustable eyewear that allows her to zoom into a scene quickly.
Romina uses a Da Vinci HD Video magnifier at school, and has a similar device installed at home. The equipment allows her to work with her classmates and accomplish fine motor tasks independently.
For Romina, life is an adventure, and her determination has been an inspiration for many. We wish you the best as you meet each new challenge with optimism and purpose.