Career Reflections
June 28, 2021 - 10 minutes read
Saying good-bye to students at the end of the school year is never easy, but knowing you'll see most of them again in September provides a sense of comfort and reassurance. It felt different this time as I wished students well as they headed out for a well-deserved summer break.  There was a sense of finality as I would not be returning in September. I'm venturing into unknown territory – something called retirement!  And with that comes a great deal of reflecting on the wonderful opportunities I've had as an educator in my 26 years in West Vancouver Schools.  In this final post, I share highlights of my career.
Who influenced my thinking and inspired me?
Simon Breakspear
Breakspear spoke at a conference I attended in 2018.  I was inspired by his ideas on cultivating collective expertise and efficacy and developing teams of teachers that can learn to improve and make each other better.  The stellar teachers at Rockridge have been meeting to share assessment practices with one another.  These exciting conversations are influencing our assessment practices at the senior level.
Chris Kennedy
Superintendent Kennedy is consistently ahead of the curve.  The keynote speakers he organizes for Opening Day set the tone for the school year and are always aligned with what's relevant and meaningful in the current context. His regular blog posts provide such great insights into his thinking.  I appreciated that he wasn't afraid to tackle somewhat controversial educational topics.  I learned a great deal from this forward-thinking leader over the last ten years.
Will Richardson
Will Richardson's Ted Talks and his book, Why School helped me steer the vision for our new Learning Commons at West Bay in 2012.  Will Richardson's belief that, "We need to prepare students to be learners who can successfully wield the abundance of knowledge at their fingertips" helped us design spaces for both content consumption and content creation.
Sir Ken Robinson
An engaging, thoughtful speaker and writer, Dr. Ken Robinson touted the importance of the arts and the power of being creative.  Passion Projects at West Bay were inspired by Robinson's vision of providing opportunities for students to explore, design, create, and share their unique areas of interest and passion.
Pasi Sahlberg
When I heard this Finnish educator speak at a conference, I immediately wanted to change the number of recess breaks at West Bay.  Sahlberg was very compelling in his views that unstructured play is key in giving children the skills to flourish, including creativity, innovation, and teamwork.  The work Diane Nelson is leading in our district on Physical Literacy is also having an impact on our learners and aligns with Sahlberg's notion that students need to be engaged in more activity.  Many Rockridge teachers provided short physical literacy breaks for our students during their longer than usual classes in the quarter system.  Even though we are implementing a different schedule in the new year, physical breaks and outdoor learning will remain a priority.
Dr. Stuart Shanker
A leader in self-regulation, Dr. Shanker's work continues to influence how we view students' behavior.  As a self-regulation pilot school, West Bay developed tracking tools, transformed learning spaces and provided a variety of strategies and tools to support students.  Working with Director of Instruction Sandra-Lynn Shortall on self-regulation initiatives was very rewarding.  We discovered that making small changes yielded significant improvements for our learners' well-being.  We opened our doors for visitors to see self-regulation in action.  We hosted teams from Manitoba, China and Georgia who were keen on learning about the impactful self-regulation work happening in West Vancouver Schools.
What were some memorable initiatives?
Diversity Conference
When I taught at Chartwell from 2000 – 2008, I experienced true collaboration as a member of the Grade 6/7 team. Patti Williams and I were enrolled in SFU's ELL Diploma Course which prompted us to organize a Diversity Conference with the goal of deepening our students' understanding of what newcomers experience when arriving to a new country and a new school.  I learned so much about social-emotional learning during my time at Chartwell which has remained with me to this day.
Grade-less Report Cards
The BCEd Plan in 2011 opened the door for new ways to communicate student learning.   West Bay teachers wanted a report card that reflected what they truly valued.  Teachers developed a new intermediate report card which included proficiency scales for academic achievement, information on the core competencies, and student reflections on the five essential elements of the IB PYP.  This was exciting work and marked the beginning of a shift in reporting.
Indigenous Education
As you enter the turnaround at West Bay School, you can't miss the beautiful wolf carving by Indigenous artist Rick Harry.  As this was carved within the school, it was a fantastic opportunity for students to see how a piece of wood could be transformed into a beautiful piece of art.  We all experienced an amazing Blessing Ceremony that accompanied the installation of the carving.  We continue to learn so much from our friends and colleagues in the Squamish Nation who visit our schools to enrich the learning.
BYOD (Bring Your Own Device)
It is commonplace nowadays to see a device in front of each student.  But this hasn't always been the norm.  In 2013, two of the Grade 6/7 classes at West Bay were involved in an action research project in which each student had a device. It was a thoughtful process, not a 'jump on the bandwagon approach' which proved to yield positive results.  With the success of this project, more and more students starting bringing in their own devices to school to enhance their learning.  It's hard to imagine teaching and learning nowadays without seamless access to technology!
Library to Learning Commons
In collaboration with PAC, the library at West Bay was transformed into a beautiful Learning Commons which aligned with the shifts we were seeing in education.  That was an exciting project!
What have I learned?
Create a culture of risk-taking. We have outstanding teachers in our district with innovative ideas.  Listen and support.
Don't underestimate the value of play and providing breaks for students as needed.
View student behavior through a self-regulation lens.
Every child has a story. Take time to be a compassionate listener.
Be a learner. Take advantage of Professional Development opportunities that may come your way.
Be a mentor.  Support and encourage our new teachers.
Make sure you laugh every day.
What Matters Most?
For twelve years I had the good fortune of being the principal of three schools — Cypress Park IB Primary School, West Bay IB World School and Rockridge Secondary — all located within the same 'family of schools'.  I had the privilege of seeing students grow and develop into fine young citizens, from learning to read and write as primary students to witnessing them proudly cross the stage as young leaders.  I think that is pretty special.
Pictured below is a West Bay student in Kindergarten (2009) who just completed Grade 11 at Rockridge (2021).  My how we have changed!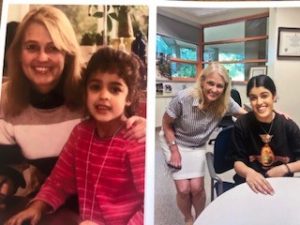 As I reflect on my fulfilling career, what stands out foremost are the people.  I was so fortunate to work alongside amazing colleagues who pushed my thinking and helped me grow in my roles as teacher and leader.  Each situation was unique, yet meaningful relationships were the consistent ingredient to happiness and success in each and every context.
Thank you to our District Leadership Team, my colleagues, and the students who have enriched my life in so many ways…and ensured that I indeed laughed every day.  Thank you to the PACs I worked with on educational initiatives throughout the years.  Your support was invaluable.
It has been an honour and a privilege working in West Vancouver Schools.