A Good Memory and Good Memories Upon Heading Back to School
September 14, 2023 - 6 minutes read
In 1977 I went to kindergarten for my first day of school in Duntroon Ontario.  To be honest, while I cannot remember that exact September day, there are a lot of things I can recall about my first year of school 46 years ago.  I think this is a rather special memory to claim to have.  One might say that I have a good memory, meaning I can recall things from decades past.  On the other hand, you could say I have good memories that have left a positive and lasting impression on me. It seems that these good memories are not only worth recalling, they are enjoyable for me to share and have kept me in school for almost 5 decades.
So, what do I remember from kindergarten?  For starters, Mrs. Grummett was my teacher. My dad helped me make a boat to take to school one day because I loved playing at the water station.  A rare piece of photographic evidence of me beside our brown four door Chevelle would indicate I wore a devil costume for Halloween and my best friend James Carson remains so to this day. (I'm in the middle row, third from the right between James Carson and Rob Plummer.)  Yes, I can actually name just about everyone in this class photo!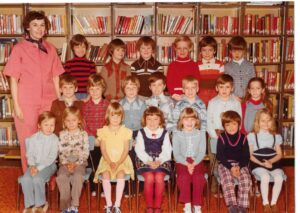 Brain research indicates that the release of dopamine occurs when we engage in activities that make us feel good.  The neurotransmitter dopamine is also linked with learning and memory; encoding and consolidating memories requires dopamine receptors that play a role in the formation of new memories.  With more dopamine receptors in the hippocampus, comes better memory. (Staughton 2022).  Of course, it can also be argued that bad memories can also be vivid and just as likely to be remembered.  I expect that if this was the case for me, I would not have pursued a career in education.  Instead, I want to help students in my school be able to recall having good friends, inspiring teachers, moments of joy, feelings of pride and success as they cross the stage in grade 12.
I have always been inspired by Linda Kaser and Judy Halbert's three goals about creating the best conditions in your school for all students.  "…every learner crossing the stage with dignity, purpose and options; every learner leaving our settings more curious than when they arrive; and, every learner gaining an understanding of and a respect for Indigenous knowledge and culture" (2017).  These may seem like three simple goals, but in fact, they are embedded pieces of school culture and important facets of what I try to bring to Rockridge through my leadership.
While there are different points of view about how students might be feeling about the start of the school year, I see my role as a principal as the person who needs to help elevate everyone to an "I am glad to be here" status. I greatly appreciate having so many positive memories of going to school and want others at Rockridge to feel the same way whether they are a student or staff member.
Inspiring people is a skill that I possess, but also one that I like working to improve.  It comes from finding joy in seeing others feel good about themselves and their accomplishments.  I still set and work toward my own goals both personally and professionally, but I love to see my students and staff experience success and feel good about their accomplishments and who they are.  Through this, I feel my own sense of pride that I have helped create the conditions for their success.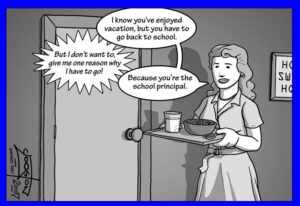 I love my job, but that doesn't mean there are not challenging days when I feel there is too much to do or too many difficult decisions to be made. The end of summer vacation has never been hard for me to get back into school mode because I look forward to the people, the energy and the events that make up our 180 days of each school year.
I have always found the joy of going to school lies in creating a balance.  For secondary students that needs to include balancing their learning and academic success, while making connections, building relationships and finding their passions beyond the classroom. Creating a positive culture and strong sense of community is the foundation of how I begin to be a principal who helps students build good memories to last a lifetime.
References:
Kaser and Halbert (2017) The Spiral Playbook, C21 Canada
Stughton (2022, March 19) Why Do Some People Have a Better Memory Than Others? Science ABC https://www.scienceabc.com/
Tags:
community
,
joy
,
leadership
,
memories
,
principal
,
school culture
,
staff
,
students