Rockridge Secondary School
Mission Statement and Core values
Mission Statement
Rockridge School strives to graduate responsible and creative global citizens in a respectful and diverse environment where relevant learning fosters excellence in personal achievement, compassion, curiosity, and critical thinking.
Core values
For a school to be successful, students, staff and parents must be committed to a clearly defined set of core values. These values provide direction for school programs and the establishment of a school climate in which each student may have the opportunity to grow and reach an optimum level of academic, artistic, athletic, and personal success.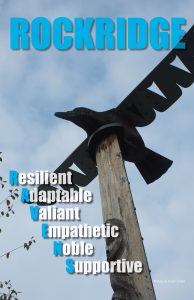 The following core values serve as our foundation at Rockridge Secondary School. We will strive to establish an atmosphere in which:
​​Learning is our primary focus.
Students are recognized and appreciated for putting forth a strong effort.
Students have the opportunity and are encouraged to assume leadership roles.
Mutual caring exists among students, teachers, and parents.
Cooperation, teamwork, respect for others and their work guide daily behaviour at our school.
Pride of ownership exists in our school and community.
Students and staff work cooperatively in helping students become successful in both academic areas and other activities.
Students are aware of the importance of the core subject areas and how they
impact on their lives while in school and in future years.
A smooth, well-organized and secure transition is established between the elementary school and Rockridge Secondary.
Students are provided the opportunity to develop interests, creativity and talents.
Parents are invited to get involved in our school through the advisory council, work projects and/or school volunteer programs.
Staff, students, and parents have opportunities to participate in the evaluation of our school.
The counseling department provides a strong support system for our students.