Support Staff Appreciation Day
February 22, 2021 - 6 minutes read
A new tradition has started in West Vancouver Schools.  February 23rd marks the first annual Support Staff Appreciation Day.  This annual event acknowledges the valuable contributions support staff members throughout the district make every day.
Support staff comprises about one-third of our Rockridge team.  Educational Assistants, office staff, teacher assistants, youth worker, and custodians respectively provide specialized services that ensure our school as a whole functions effectively and efficiently.
Educational Assistants
Thank you to these amazing individuals who work with students every day.  They patiently and kindly provide support for our most vulnerable students. They work with students who may need a little boost in their skills to give them the confidence they need to feel successful.  As I wander through the school I see Educational Assistants providing a wide range of supports in classrooms and connecting with students working remotely.  They are checking in, asking how they are doing, ensuring they are on track and providing whatever support necessary to make each and every student thrive.
Teacher-librarian Sarah Conbere notes:
"I have been privileged to observe Petra at work this year. She is dedicated to her students and passionately works to help them succeed. Often, she is in the library supporting and encouraging students with their work. I have seen these students buckle down and make an effort as a result. She is truly an unsung hero of student success."
English teacher Tracy Smith adds:
"Bernice is so dedicated to the success of students. Her awareness of the specific supports each child needs demonstrates her insight and sensitivity. She is remarkable."
 "Nicole's patience with students has been a model for me for my practice. She always seems to know which students need gentle reminders to refocus and has her finger on the pulse of behavior in the classroom. She is a wonderful colleague."
Thank you Anna, Bernice, Cecilia, Chris, Clare, Forough, Joey, Kamyani, Kathleen, Kristi, Marius, Nancy, Nicole, Petra, Rachelle, Stephen, and Susanna.
Teacher Assistants
These individuals perform a variety of tasks including supervising students, organizing equipment for Science labs and helping staff and students in the library, the Counselling area and the Careers Department.
According to teachers in the Careers Department, "Leesa is our guiding light, endless wisdom and humble leader in our department.  Her ongoing mentorship for both staff and students is greatly appreciated!  Her passion is illuminated when working with students not only with their post-secondary plans, but also life advice.  The genuine connections that she builds with students exceeds well beyond their secondary education as they can be seen reaching out to her for advice well into their professional careers.  We love you Leesa!"
Thank you Leesa (pictured below in pre-Covid times), Heather, Joseph, Trish and Elisa.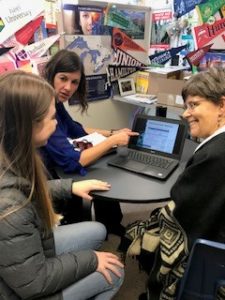 Office Staff
Whenever a student needs to borrow a Chrome Book, has forgotten their mask or wishes to purchase school spirit gear, our office staff is there to help.  Always with a friendly welcoming tone, our front-line staff answers phones, accepts deliveries, relays messages, provides first aid and supports the various needs of staff and students.
Thank you Mary-Lee, Karen, Sohee and Christie.
Youth Worker
Our Youth Worker builds connections and supports students' social-emotional needs. Thank you Leanne for being a trusted, friendly face who is always there to listen and lend a hand.
Custodians
Whether they are opening the school on dark wintery mornings or locking up late at night, our custodians are dedicated individuals. They play a key role in keeping our school safe and clean.  They work behind the scenes clearing and salting sidewalks, sanitizing equipment and cleaning learning areas.  They respond cheerfully to whatever request is asked of them.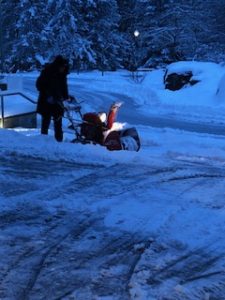 Teacher Tracy S comments:
"Eric our custodian is the most attentive and caring support staff. He checks in with me regularly to see if there's anything I need. He's always quick with a kind word of encouragement and wonderful reminders when the weekend is fast approaching. We have been decluttering the English Book Room and Eric has been an integral part of that by going above and beyond providing recycling bins and hauling away our donations/junk."
Thank you Tony, Rommel, Raul, Eric, Florencio and Marlon.
Although not always 'visible' in our day to day school life, we could not function without our wonderful support staff.  Each member is an integral part of the Rockridge team, working together to make it the best school that it can be for our entire community.  To quote the famous Chicago Bears football player Walter Payton, "Alone we are strong…together we are stronger."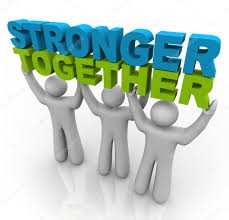 Thank you to all our support staff.  Each of your contributions, no matter how big or small, ensures we continue to have a strong team at Rockridge.