Rockridge's Jack Chapter Makes a Difference
January 16, 2017 - 4 minutes read
During the last school year, a new youth leadership club focusing on youth mental health was started at Rockridge. It was called Jack.org.  This year's president, Megan, shares information below as to how the club is continuing to promote positive mental health.  She also talks about her experience meeting and sailing with the Duke and Duchess of Cambridge when they visited BC this past Fall.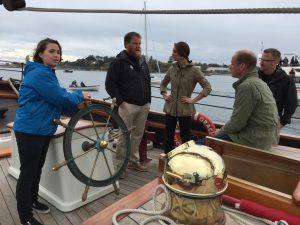 Megan (left) with the Duke and Duchess of Cambridge.
"Jack.org was started in Ontario after the founders, Eric and Sandra Windeler, lost their son Jack due to mental health issues in 2010. Eric dove in head first, wanting to know more about what was going on, starting with the school his son went to, Queen's University. Shortly after, the Jack Project was formed, and has now evolved to Jack.org, a nation-wide organization, which involves three main components: Jack Talks, Jack Summits, and Jack Chapters.
 At Rockridge, we have a Jack Chapter and our main goal is to reduce any stress students may have through multiple fun events and inspiring movements, while also keeping the conversation open about youth mental health.
 For the past two years, we wrapped presents and hid them around the school right before the Winter break.  The presents included mental health facts taped inside along with the various goodies. Another highly popular activity has been the Wall of Awesome, where we used white boards with sticky notes and pens, allowing students to write inspirational quotes or pieces of advice to empower each other.  Club members have also held the successful Bob Ross Paint Along around the time of midterms to give students the opportunity to have a laugh and paint some beautiful Bob Ross sceneries during a busy time.
 We are planning on hosting Thursday Night Live (TNL) again this year. TNL is a spinoff of Saturday Night Live (SNL).  It is a positive and fun talent show, allowing students to express themselves while also learning about mental health.
 I encourage everyone to go to the Jack.org website to learn more, and also to check out the Our Royal Moment Video above. This event was held on October 1st, 2016 and I was honoured to be selected to be a part of it. 18 Jack.org students from across the country gathered in Victoria to board the Pacific Grace, a tall ship from the two ship fleet of SALTS (based in Victoria). On board the boat with us were their Royal Highnesses, the Duke and Duchess of Cambridge. We were privileged to be a part of their last day in Canada when they were on their Royal Canadian Tour. We spent an hour sailing the ship with them and chatting in groups about what we do with Jack.org and why it's so important. It was one of the most impactful moments I've ever been a part of and I will never forget it. This event, the conversations that came out of it and the people I met really sparked my interest in the importance of talking about how you are feeling. Also, knowing that it's okay to not be okay is so important, and we're here to show that."
Megan Titcomb, President of Rockridge Jack Chapter