Rockridge Theatre Company Presents the Musical Monte Cristo
April 4, 2017 - 1 minute read
Rockridge Theatre Company proudly presents: Monte Cristo, April 4-7 at the Kay Meek Centre
Book by Flip Kobler & Cindy Marcus
Music by Dennis Poore & Flip Kobler
Rockridge students and staff are excited to share with you the musical, Monte Cristo, which follows a group of students as they learn the classic text, The Count of Monte Cristo and, in the process, learn something about themselves, as well.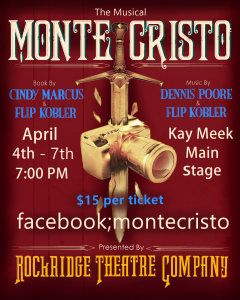 A successful production such as this requires many hours of preparation, which begin several months in advance of opening night. Students have been working since September, with director Jennifer Ohlhauser, producer Avril Foster, a vocal director, a choreographer, a fight choreographer and many others including teachers, student teachers, and volunteers.
Congratulations to everyone involved in this musical from the actors, to the crew, and the teachers, on an outstanding performance. The value to our students and school community is immeasurable and the enjoyment we gain from watching students follow their passion is what makes plays and productions so important to our school community.  The performance will in turn inspire other students to pursue their love of acting, technical theatre, and the performing arts.  I would like to offer my deepest thanks to everyone involved, including the parents and volunteers for all of their work behind the scenes.
$15 tickets are available at the door at Kay Meek Centre or at the Rockridge Secondary School office.