Rockridge Students Develop APPS for the "SFU Technovation Challenge"
May 19, 2016 - 6 minutes read
​Two teams of Rockridge students entered the "SFU Technovation Challenge" and both have had remarkable success with the app they created for this challenge. These teams were sponsored by teachers, Ms. Kashani and Ms. MacDonald. Grade 12 student, Akcinya Kootchin, describes their journey while developing their apps:
"In October of this year, I walked into our school's Career offices only to be met by a truly animated Ms. Kashani, excited at the prospect of the latest project she had found. Although I was ignorant to the magnitude of what she had just offered me, a long record of successful volunteer placements had left me trusting in her abilities to find impeccably well fitting opportunities for every student that walked through her door. On this particular day, she was referring to the Technovation Challenge, a 'Global Technology Entrepreneurship Program for Girls,' and she thought that I, along with eight other girls would be the perfect candidates.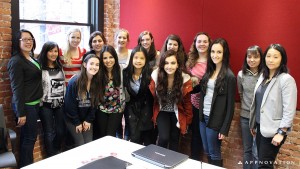 We were divided into two teams and tasked with the challenge of finding an issue close to our hearts and making an app to address that issue and alleviate the problems which accompanied it. My group chose to tackle youth mental health, while the other wanted to help incoming Syrian refugees. In each of our apps, we worked to build a visually appealing, easy to use interface that was simple as well as effective and could be seamlessly transferred to a marketplace to be distributed en masse and used by its target audience. The challenge brought together girls from all backgrounds and interest groups; those who were interested in science and technology and would develop the app, those who were interested in design, and those interested in business and, thus, was the foundation of our three part challenge. We were able to combine girls from diverse walks of life, age ranges, and skill sets, and create a product that we were all proud of. Fast forward to today, nearly eight months later, and we have placed second and first in our localized competition, Immigration and Citizenship Canada has showed interest in the app to help Syrian refugees and the mental health app has been able to move on to global semi-finals in the Technovation competition.
Though the skills we learned in terms of app development and business management undeniably provide us with a strong foundation for our lives going out into the so called "real world," I believe that it was the lessons learned in communication, compromise, and cooperation that will really stay with us. To those girls with the opportunity to take on this challenge next year, I strongly recommend that you do. What you learn about technology, the value of aesthetic in marketing products, and how to make an effective and comprehensive plan will provide you with a knowledge base far above those of your peers. The connections you make with local businesses will provide invaluable lessons on what career you want to pursue, and might even help you get there. But perhaps best of all, after all the hard work you will be able to walk into a room full of girls that were once complete strangers with the knowledge that together you created something valuable to your community, and made some amazing friends in the process."
Ms. Kashani says,"The federal government is featuring the Team "United Utopians" work on their website for World Refugee Day and "Team Fresh" has made it to semi-finals in the global Technovation challenge and are eagerly waiting for the list of finalists which is to be released this week. The finalists will be flown to San Francisco and will head to Silicon Valley to the World Pitch event where one team will win $10,000."
Ms. Kashani and Ms. MacDonald are very proud of the students and have enjoyed their experience working with them. Ms. Kashani says, "These girls gained so much experience and knowledge from this extra-curricular challenge they signed up for. I watched them learn how to work as a team, as several of them were just acquaintances when they began. They motivated each other and found solutions to problems by reaching out to their mentors and using their own resources. Each time I think about it I'm just in awe of what these girls in grades 10-12 have created in this short time and I am positive they will continue reaching out to their communities, giving back and being passionate about it all."