Rockridge – A Vibrant Community
May 19, 2017 - 4 minutes read
Rockridge has been alive with activity these past few months, as students showcased their work and talents in a variety of areas.  Rockridge held its fifth annual MYP Personal Project Exhibition. Grade 10 students once again impressed parents, fellow students, and staff with the quality and scope of their personal projects. The Personal Project tasks students with exploring an inquiry question relating to something that they are highly interested in, and then investigating it in more depth. The effort and thought that students put into their projects were evident as they enthusiastically shared the results of their explorations with our community. Congratulations to our Grade 10 students.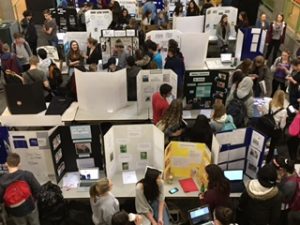 MYP Personal Project Exhibition
Rockridge's annual Public Speaking Competition, "Rock Talks", was once again a highlight for students as they prepared a humorous, dramatic, or serious speech, which they then performed for their classmates and peers. The students whose speeches were chosen went on to perform at the grade rounds, and then the final school round competitions, which took place before the entire student body. Congratulations to all of our students for taking on this opportunity to share something that they were passionate about speaking on.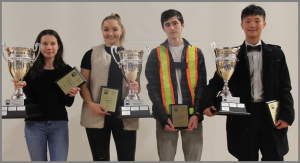 Pictured from left to right, Jacqui M. (G 8), Emma M. (G 12), Matt F.V. (G9), and David S. (G 11)
We are proud of all of our students who participated in Rockridge's athletic teams this Winter as they had a successful season. Standout performances by the Junior Girls Basketball Team and the Ski and Snowboard team were a highlight. Spring athletic program offerings with track and field, golf, mountain biking, badminton, ultimate frisbee and junior and senior rugby are all well under way. We are grateful to each of our teacher and community coaches for dedicating their time and efforts.
Many Rockridge students participated in trips, which provided outstanding enrichment opportunities. Mr. Harding and Ms. Ferrajohn took Biology 11 and Pre-AP Biology 11 students on a field excursion to the Bamfield Marine Sciences Centre on Vancouver Island to enhance their curricular understanding of biodiversity, ecology, marine species and interactions through experiential and lab-based activities.  A number of Grade 10 – 12 Social Studies and History students participated in a trip to observe the 100th Anniversary of the Battle of Vimy Ridge in the Netherlands, France and England. This trip provided students a unique opportunity for experiential curricular learning.  In another cross curricular field excursion to Orlando, Florida, students experienced a variety of science/business-themed educational programs that tied in space science, zoology, physics, marine science, technology, leadership, marketing and finance. Junior and Senior Concert Band students attended the Con Brio Festival trip in Whistler.  Congratulations to our Senior Band students for receiving a silver medal.  Grade 8 students went to Camp Summit as the culminating activity of their Science and Math interdisciplinary unit. Thanks to Rockridge staff and our parent community for supporting these trips, which provide incredible growth opportunities for our students.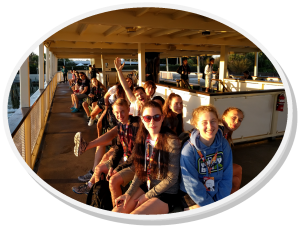 Grade 10 students in Orlando, Florida
Rockridge PAC recently hosted a fun and highly successful Rockridge Spring Soirée. Thank you to all of the parents and staff who attended this event.  A special thank you goes to all of our sponsors and, in particular, to our co-chairs, Linda Heintzman and Nicola Bailey, for the countless hours they put into organizing this wonderful event.