Coding for the Real World
September 21, 2017 - 7 minutes read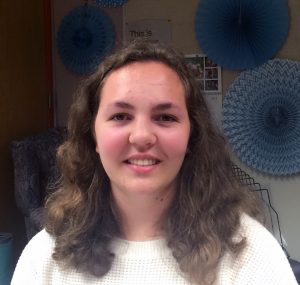 Around the district, there's been an increased emphasis on coding at both the elementary and secondary levels in recent years. For many students, including a team of five girls at Rockridge Secondary, the shift has brought fresh insight into the connection between what they learn and how that applies to the real world.
For Ella Kuypers, currently in Grade 12 at Rockridge Secondary, the increased focus on technology has shaped her senior years at the school, provided a fascinating new direction for her future career direction, and taken her to Silicon Valley, where she got to hear first-hand about technology from the CEO of Google.
Ella is the coding genius behind two highly successful, all-female teams from Rockridge, who competed in 2016 and 2017 in the Technovation Challenge. This initiative invites teams of girls from all over the world to solve real-world problems using technology, and provides the tools for them to pitch and launch their ideas as full-fledged businesses. In addition to Ella, team members included Ella Dong, Alexandra He, Jasmine Yang, Golshid Zahiremami, each of whom had a role in coding, design, marketing or business.
Last year, the team at Rockridge, Sugar Coded, placed as semi-finalists for their app Raise It. Together, and in collaboration with their mentors at Appnovation, the five girls brainstormed issues around the theme of equality, and settled on an idea that would help empower women by designing an app that improves verbal and written communication. The entire project was extra-curricular and did not offer extra credit, yet the girls put a huge effort into the project from fall through spring, meeting as a team and with their mentors weekly.
"Each team is assigned a mentor to help them with the marketing and technology side of the challenge," says Ella. "The first year, there was a big learning curve, but I was lucky because our mentor knew a lot about coding, and helped direct me to resources for finding information that I would need to code the app itself. The second year, we had more access to business coaches, who really helped at the prototype stage, because it's really important to plan out what you're doing before you tackle the coding."
Ella worked about 60 hours over spring break in 2017 using MIT app inventor, which focusses heavily on structure, to make sure the planned app worked, and she was able to do the whole thing much more quickly than she had done for the first competition.
Raise It menu options include 'your text', 'your voice' and 'your role model', with 2-3 sub-options under each of those. Weak word choices are highlighted in red, for example, and suggestions are made for improvement. If the user needs to create a speech, the app connects them to role models who have delivered successful speeches on similar topics.
"When I was younger, I played a lot of video games, and I loved that there were new things being created all the time," says Ella. "This work definitely helped me find a path to use what I've learned in IT class. It just kind of clicked — technology is always changing and there's so much development in this area that it made complete sense to go into this as a field of study after school."
Ella took an Information Technology class in Grade 9, which helped prepare her for a role on the technical side of the team in Grades 10 and 11. This year, Ella is enrolled in the school's AP Computer Science Principles course, in preparation for further education in computer science at UBC or SFU.
As part of their team's semi-final placement, each girl's fees in the world pitch event that took place in San Jose last month was covered. They also won a $5000 U.S. scholarship that will be split equally among team members, which they can use towards Post-Secondary education in a science, technology, engineering or math field or to bring their idea to market.
"It was a five day week, and they had some really cool day trips planned," says Ella, whose mother Elisabet Joa travelled with the team last month. "We got to tour Microsoft and Google, and met many of the people working there, as well as teams of girls from all over the world – it was an amazing trip!"
Ella has a busy life at school and at home, where she the eldest of five children, and whose parents are both working professionals.
"Being part of a big family is really cool and a lot of fun," says Ella, whose youngest sibling is in Grade 1 this year. "We laugh about it a lot and I have great stories to tell whenever one of my friends brings it up, and they do it all the time – soooo, what happened at your place over the weekend?"
Ella loves the Technovation Challenge so much, she is already preparing to enter the 2018 contest, which opens this October.
"It's really, really cool and has helped me connect what I love to a real direction and future career, so of course I'll take part again!"
Congratulations to Ella K., Ella D., Alexandra, Jasmine, and Golshid on their success with the Technovation Challenge. 
Thank you to Bev Pausche, West Vancouver Schools Manager of Communications and Community Engagement for writing this article, which can also be found on the West Vancouver Schools Website.