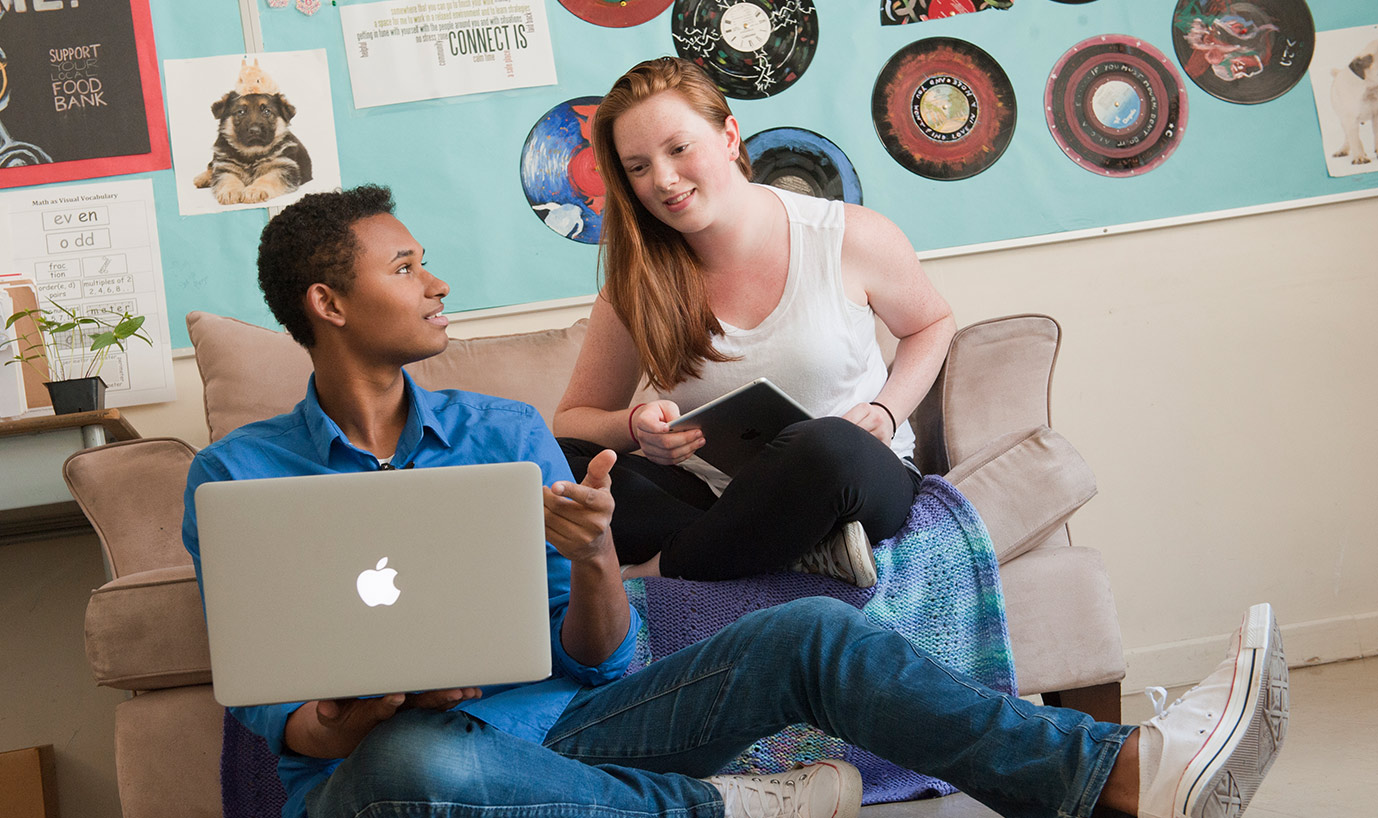 Rockridge
Blended Learning
Blended Learning
WHAT IS BLENDED LEARNING?
This involves a blend of face-to-face classes with an online component. In these courses, students are able to complete courses within a guided, yet flexible framework, often outside of traditional school hours.
There are two different blended learning options:
Courses that are offered at our school, outside the timetable. These courses allow students to increase their timetable flexibility and take additional courses beyond the traditional 8 course program.

Courses that are offered at one of the other two schools outside the timetable. These courses allow student to access courses and programs that are not offered in our school.
At Rockridge, we offer the following blended learning course options:
Career Life Education (outside regular timetable)

Mentorship 10 (outside regular timetable)

Leadership 11 (outside regular timetable)

Peer Tutoring 11 and 12 (scheduled block within timetable)

Creative Writing 12 (scheduled block within timetable)

Drama: Film and Television 11 and 12 (Advanced Class/Group outside regular timetable)
Students at Rockridge can access the following courses at the other two schools:
Fashion Industry (West Van)

Young Entrepreneurship and Leadership Launchpad-Application required(West Van for grade 11 and 12's)

Yoga Teacher Training-Application required (West Van)
CAREER LIFE EDUCATION ~ BLENDED LEARNING (Rockridge)
Career Life Education is a mandatory Ministry course, implemented in September 2018, for all students.  This course is a requirement for graduation. Career Life Education also establishes the foundation for Career Life Connections that all students must complete prior to Graduation. The prescribed learning outcomes for this course require that students develop an understanding of their personal responsibility for attaining and maintaining their overall health and financial well-being, and for pursuing and achieving their education and career goals. Students will develop the knowledge, skills, and attitudes that enable them to plan for their successful transition from secondary school to their adult lives.
Career Life Education – Blended Learning is scheduled outside of the regular timetable. We meet online asynchronously (not real time) as well as in person at a pre-determined location. Most of the work is done online using Google Classroom; however, we also dedicate 3 hours each month meeting face to face. The face to face time can be before school, during lunch, or after school. Assignments are completed weekly and vary, comprising of online discussions, blogs, wikis, research papers, presentations, and online group projects. The aim of Career Life Education is to enable students to develop the skills they need to become self-directed individuals who set goals, make thoughtful decisions, and take responsibility for pursuing their goals throughout life.
LEADERSHIP 11 (Rockridge) – there is an application for this course. Please join this google classroom to complete the application – xv2zepd
Leadership 11 is a Board Authorized elective course that provides an opportunity for senior students to take on a leadership role at Rockridge, in elementary schools, and in the community. This is a great opportunity for teenagers to help kids in their community and bridge the gap between elementary and high schools.
Classes/Workshops ( 20 – 25 hours)
Students will complete about 8 – 10 workshops throughout the year, outside the school schedule. Topics include; Leadership Styles, Communications, Coaching, Conflict Management, Teamwork, Motivation, Safety, Ethics, etc.
Coaching, Leadership and/or Management practicum ( 20 – 30 hours)
Students choose a focus group
Either Focus Group A:
Students will be assigned a team, individual or group at Rockridge, in the community or one of our Family of Schools. They will take on leadership and organizational roles that support the goals and objectives of the sport and recreation activity. Students can choose from the following areas:
Coaching (Individual or team sport): Such as: Basketball, Volleyball, Swimming, Circus, Ultimate etc.
Rec Club/ Organizer: Such as: Badminton, intramurals, Weightroom
Sport administration: Officiating ( Refereeing ,Scoring and timing)
OR Focus Group B:
Grade 8 Advisory and Mentorship (Pre -Requisite Junior Mentorship Program or Teacher recommendation)
Students take on a leadership role with the Junior Mentors.
Assigned to a group of junior mentors with which they train and guide as future leadership student.
Responsible for running designated grade 8 events and advisory groups, such as Opening Day, as well as the Bowen Island Team Building day.
Counsellors ( 10 – 30 hours)
Students will participate in a school based event as a counselor to assist, mentor, connect and provide support and guidance to our up and coming leaders. Events could include: Grade 8 Camp Summit, Grade 9 Grouse Mountain Adventure or Elementary Outdoor Schools and Sports days.
Community Event ( 5 – 10 hours)
Along with working in elementary schools and within Rockridge, students will be required to assist or run a school or community sports event such as Terry Fox Run, Raven camps, staff/student games intramurals.
Cost: $75 includes class gear and Mentorship Workshop
MENTORSHIP 10 (Rockridge) – there is an application for this course
This 4-credit course is designed for grade 10 students who have an interest in, and commitment to, fostering a peer-support network. The primary focus of the program is to ease the transition for students from Grade 7 to Grade 8.  Mentors are matched with a group of Grade 8's from the beginning of the school year and form connections with them through ongoing advisory sessions and various Grade 8 events throughout the school year.  Mentors are selected the year before and register for this course to ensure a sustainable continuation of the mentor program.  Students will take part in all of the Grade 8 events, attend outside the timetable biweekly training sessions and collaborate through Google suite to prepare for the various activities. The content of the course is focused on training mentors in order to improve their listening, responding, problem solving, presentation and interview skills that will be practiced through the experiential learning portion of this course. Mentors are expected to complete 50 hours of volunteer work both within the school and outside in the community.
NOTE: Mentors are selected through staff recommendations, an application, and an interview.  After taking this course, students can continue on as a mentor leader by taking the Leadership 11/12 course.  Volunteer hours accumulated in this course are not allowed to be used towards school service hours as they are, instead, used to give students credit for this course. Cost: $50 to cover t-shirt and event costs throughout the year.
PEER TUTORING 11 (Rockridge)
The Peer Tutoring program is offered to grade 11 or 12 students. Students should have a solid academic record and a desire to help other students with their learning. As a part of the school community, tutors work with their younger peers in the Learning Support Centre and in different classrooms. In September, students participate in 3-4 hours of training.
Topics that are covered include:
Learning styles

Interpersonal skills

Study skills

Reading Strategies

Communication skills

The ethics of tutoring

Self esteem techniques
Peer Tutoring 11- Blended Learning is scheduled within the regular timetable. Tutors will be responsible for keeping accurate records of all peer tutoring activities and will demonstrate knowledge of issues related to ethics and confidentiality. This course will involve both a classroom and a practical component. Assessment includes 60% Sponsor Evaluation (practicum), 20% assignments and projects, 20% reflective journals.
Note: Students interested in taking Peer Tutoring must arrange an interview with Ms. Rinfret before April 15.
PEER TUTORING 12 (Rockridge)
Peer Tutoring 12 has been designed to further develop Peer Tutors' skills and strategies throughout the school year as they provide assistance and support to students in a school or community setting.  Students will participate in two of five practicum experiences:  working with students in a secondary classroom, working with students in an elementary classroom, working with students in an elementary school – extra curricular, working with students with a specific learning disorder, or working with a community group to apply the skills they have learned in Peer Tutoring 12.
Peer Tutoring 12- Blended Learning is scheduled within the regular timetable. Learning outcomes from the course are listed under the curriculum organizers: Communication Skills, Learning Disabilities and adaptations, Early Learning Skills and Strategies, Independent Project, Applications of Skills.
Assessment includes: 40% – 2 practicum experiences, 40% self and teacher evaluation of journals and anecdotal records, and 20% independent project.
CREATIVE WRITING 12 (Rockridge)
Creative writing 12 is an academic elective for students willing to discover more about themselves and the world in which they live through their endeavors in written expression. Student in this course must be ready to listen with an open mind, be prepared to speak out loud, be interested in writing frequently and extensively, and be courageous enough to challenge themselves and stretch their creativity. During the year students will have the opportunity to write in a number of different genres including creative non-fiction, memoir, short fiction, humor, and writing for the stage and screen.
Writing 12 – Blended Learning is scheduled within the regular timetable. Students will meet in class every class until mid-October at which point 50% of the classes will be held online. This flexibility in location allows for students to write in different spaces and times.
Because students will have more freedom with this model, a successful writing student is one who is genuinely interested in pursuing the craft of writing and who is self-motivated and disciplined.
There is no final exam for this course. Assessment is based on a rubric and will be evaluated by both the teacher and the student.  This course is open to both grade 11 and 12 students.
FASHION INDUSTRY 12 (District)
You love fashion! This course is for students who are interested in all aspects of the fashion industry. The course will look at the development of fashion and industry topics such as design, production, marketing and fashion promotion. Students will have the opportunity to develop a portfolio that will explore concepts in trends, accessories, design, product development, and marketing. This course will provide an excellent background for students interested in pursuing the fashion business at the post-secondary level. This course does not have a sewing component.  This Blended Learning Course is based at West Van Secondary and meets face to face approximately once a month.
YOUNG ENTREPREUNERSHIP AND LEADERSHIP LAUNCHPAD- BLENDED LEARNING (District)
The Young Entrepreneurship and Leadership Launchpad is a course offered to students entering Grades 11 and 12. Those students who have an interest in business will be able to earn course credits toward graduation while working with both teachers and business/community leaders to design a business. Students will have the opportunity to connect with top entrepreneurial talent and participate in a Venture Challenge.
Hosted at West Vancouver Secondary, students from all three secondary schools are welcome to register. This course will run outside the regular timetable, with weekly 2 ½ hour classes/meetings from September – December. In January, students will break into mentorship groups, working towards "Venture Presentation Night", during which they will share their business ideas and learning.
This course, with the involvement of WVSS teacher Jo-Anne McKee, brings together the school, the community and our primary business partners: Rattan Bagga, CEO of Jiva Organics; Amit Sandhu, CEO of Ampri Group; and Punit Dhillon, co-founder, President and CEO of OncoSec Medical. We are very excited about this new course and the singular opportunity it affords our students.
Contact Jo-Anne McKee at jmckee@wvschools.ca or CLICK HERE for more details.