2016 Canadian Innovators in Education Award
November 11, 2016 - 2 minutes read
Congratulations to Rockridge and Gleneagles Ch'axay teacher-librarian Ms. Michelle Davis who, along with Rockridge teachers Ms. Lisa Hetman and Ms. Parnaz Kashani have been selected as the third-place prizewinners in the 2016 Canadian Innovators in Education Awards, sponsored by the Canadian Educators Association and Reader's Digest Magazine. These awards recognize innovative teaching practices in Canadian Schools. In addition to Rockridge staff, teachers from Caulfeild, Eagle Harbour and Gleneagles Ch'axay Elementary Schools participated in this collaboration.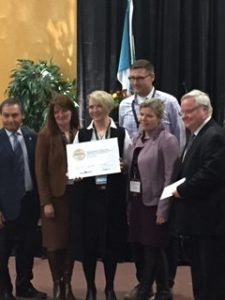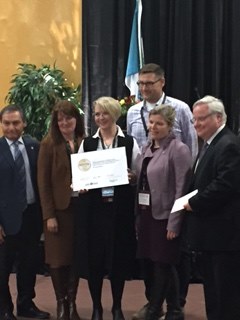 Ms. Davis and Ms. Hetman accept Canadian Innovators in Education Award.
Ms. Davis, Ms. Hetman, and Ms. Kashani have been recognized for their work in creating makerspaces in the Rockridge Learning Commons (the 21st Century version of the school library). Ms. Davis and her fellow teacher-librarian, Ms. Lilian Trousdell, have created this "library plus" model for Rockridge Secondary, which includes makerspaces. In Ms. Davis' blog, "Makerspaces: What are they?",  she quotes Laura Fleming, author of Worlds of Making: Best Practices for Establishing a Makerspace for Your School with the following:
"To define a school's makerspace by its purpose in the simplest of terms, it is a place where young people have the opportunity to explore their own interests; learn to use tools and materials, both physical and virtual; and develop creative projects.' Fleming, 2015 p. 5"
Rockridge's makerspace resources to date include a 3-D printer, a green screen for filming, and a lego-wall. The lego wall has been particularly popular with students and classes.  Recently, a Communications 12 class used the lego wall for an assignment called "What's Your Story?"  Students interviewed a relative about a memorable experience in their lifetime and then created a visual representation of the story on the lego wall.  Ms. Trousdell and Ms. Davis are now looking forward to adding resources to implement both robotics and sewing makerspaces over the course of the school year.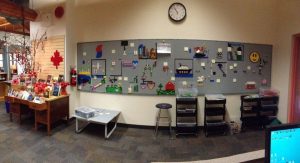 Lego wall with visual representations of "What's Your Story?" by students in Communications 12.
To read more about the innovative teaching practices profiled in the November Reader's Digest magazine, click here.