Principal's Words to the Grade 7 Class of 2016
July 5, 2016 - 7 minutes read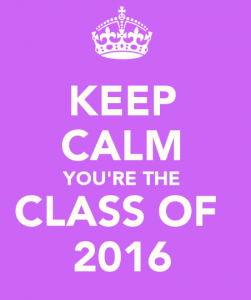 Welcome parents and guests to the Class of 2016 Leaving Ceremony. Thank you for joining us this morning.
When principals give farewell speeches to classes leaving their school, they often offer words of advice to students to support their success in the 'real world'. However, in reflection, to our students, school IS the real world. All the students we see in front of us today are unique and as such, have unique learning profiles. Many have overcome challenges and obstacles just to get to this point in their education. This needs to be acknowledged.
EACH student deserves to be recognized for all the strengths and talents that they have; they also need to be recognized for the contributions they make to our school and community. Hence today's ceremony is not just an awards ceremony recognizing athletic and academic achievements. It is also a ceremony that highlights contributions in service and leadership.
In the next few minutes you will hear teachers talk about their students' strengths and qualities. It is our hope that these students are already aware of these amazing qualities and will leave our school and continue to focus on these talents.
It is also our hope that these strengths are, in fact, passions and that moving forward students will spend their time doing something in which they are passionate about. So grade 7's, you know what you are good at…so do it! Really challenge yourself in these areas. Push yourselves and encourage each other in their areas of strength.
When you push yourself you might actually go outside your comfort zone and take a risk. When you do this, you WILL make mistakes-please remember mistakes are made because you are pushing yourself and this is a great thing. This is how we learn and move forward in life.
As indicated last week during the grade 7 dinner /dance celebration, some of you have spent quality time with me at the office. I hope you all know that lessons learned through the elementary years go beyond the conversations had in the principal's office.
Of course, there are many teachers in this school that have also put in significant amounts of time to help you to learn. We have ALL taught and learned from one another, student to teacher, and teacher to student. I hope you take some time today to reflect on lessons learned over your elementary school years.
I would like to take some time to share with you lesson highlights I know will support your success as you transition into high school.
Firstly, Learn from Correction and Criticism….though difficult to hear and challenging to change direction, correction and criticism, force you to become flexible and teach you to understand perspective. Understanding perspective will help you to become a critical thinker and peaceful problem solver.
Remember, that there is no such thing as failure…You will at some point fall and when you do, remember this…there is no such thing as failure. Failure is really life trying to move us in another direction…Learn from every mistake.
I hope you have learned also the importance of developing your own internal compass….develop your moral and emotional GPS and use it to guide your day to day decisions and use it to set goals for yourself. This will help you to create your own story…a story that will be about purpose….and this is the important thing…because when situations become difficult, and they will at times, this purpose and your internal compass will get you out of difficult situations.
Make time for face time…..my hope is that you will try to have more face to face conversations with people you agree with and people you disagree with. Have the courage to look people in the eye and hear their point of view. Balance tech time with face time.
Find your passion. What makes you come alive……The world needs interesting people. Find your passion and you will find your purpose.
Listen….the real secret to success is your willingness to listen. Be still, focus, be open minded….listen. If you are willing to listen, you will be happy, successful, and make a difference in the world.
Always be kind…Extend yourself in kindness whenever you can. Banish dark words and actions with positivity. Kindness never goes out of style.
Don't forget to show gratitude….being thankful and showing thanks for what is going well will build resiliency and resilient kids are healthy kids…so show gratitude.
And finally, max out your humanity…..be aware of what is going on around you…be aware of people in your community, country and world. Serve, lead and continue to make a difference.
Elementary school lessons are real world lessons.
Students, today we recognize and honour you for your accomplishments and strengths as well as for your ongoing efforts and contributions to our real world.
Lessons learned and honed in high school will surely contribute to your ongoing successes.
Thank you Grade 7s. Together with your teachers I wish you the very best as you advance to grade 8.
Parents, teachers, guests, please join me in Congratulating the Ridgeview Grade 7 Class of 2016.