Learn Like A Dragon
July 8, 2021 - 1 minute read
Our Framework for Enhancing Student Learning (FESL) focus at Ridgeview will be new for 2021 and we are developing a focus and the area of Personal and Social Awareness. The high-level focus will be to have all of our students have a sense of belonging and inclusion, and feel connected to their school community. We also want to refine and build on specific student's social and personal skills such as citizenship skills, peer conflict resolution skills and to develop a growth mindset.  We also have embedded how teachers can facilitate these social and emotional skills and how students can gauge their understanding of the Personal and Social Awareness Competency Learning Targets ("I can…" statements) by using our assessment inquiry approach of "Learn Like A Dragon". By building in common language for all grades, we want students to be able to address three essential questions while engaging in their schoolwork to learn about a Big Idea/Concept:
What do I know and wonder? (Head)
How do I feel about this? (Heart)
What action steps will I take? (Feet)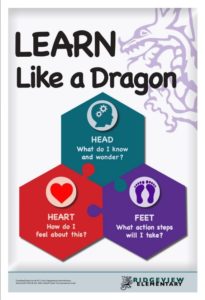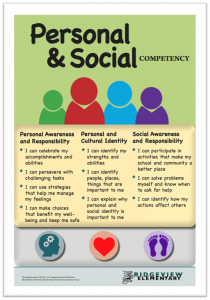 In addition to our "Learn Like A Dragon" inquiry assessment approach, we are also using the "Learning Arrow" as a reflective tool to monitor student progress/class progress towards a Personal and Social Learning Targets that is being embedded into the learning of the Big Ideas/Concepts in the curriculum.