MayFair 2018
May 6, 2018 - 2 minutes read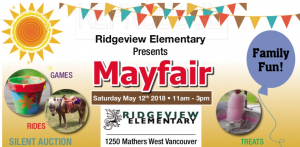 The Ridgeview MayFair event is a school sponsored event that generates energy and spirit from the entire WV community. Mayfair 2018 will take place on May 12th from 11 – 3 p.m.
This year's MayFair event is being coordinated by Ridgeview parents Julie Cameron and Kerra Sugden and supported by Ridgeview PAC Chairpersons Nargess Tabrizy as well as a host of Ridgeview parent and student volunteers.
As a community event, MayFair has something for everyone.  Kiosts and events included the Barbecue, Café, Face Painting, Arcade Games, Plant Sale, Tombola, Paint a Pot, Books and Games, Used Sporting Goods, Silent Auction, Pony rides, Bouncey Castles and many varied Sporting Challenges.
Online this year, the Ridgeview School Mayfair Silent Auction 2018 is now live and ready to take your bids. Click on the link below, create an account and start bidding. The process takes about 30 seconds! The Silent Auctions items that are available to "Buy Now" can be purchased through Etransfers directly into our RPAC account. The details are on each item under the "Pick up/Shipping Instructions".  All Online Bidding will close at 11pm on May 11th and transfer to our "Live Silent Auction" at Mayfair on May 12th in Mrs. Daudlin's class. Don't forget to come and visit us and continue bidding on your favourite items. Some of the items will only be available on site at the Mayfair. Cash, cheques and credit cards (2.65% surcharge) accepted on Mayfair Day.
Please contact Genevieve Hassan at genehassan@gmail.com if you have any questions or if you would like to make a prize donation, new items can be added daily on the website. Ready, get set, let the bidding begin!
www.32auctions.com/mayfairsilentauction2018
We look forward to seeing Ridgeview family and friends at MayFair!