Chinese New Year Celebrations at Ridgeview
February 12, 2018 - 2 minutes read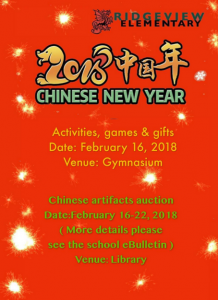 Chinese New Year, which falls on February 16th in 2018, is a widely celebrated holiday in China and many Asian countries. It is fun and family oriented. To celebrate Chines New Year and to learn about this fun culture, Ridgeview, together with the school's Chinese community,will highlight this celebration through a variety of activities throughout the month of February.
A special interactive event, where students can enjoy games and activities, will be held on February 16th in the school gymnasium. At this time, teachers will guide their students through the gym activities. There will be an opportunity also for Ridgeview parents to be a part of the celebration, either by helping with activities on this day, or simply by participating in the games and activities. We encourage students, staff, and parents to show their spirit for this event by wearing the traditional festival colours of RED and YELLOW to celebrate Chinese New Year.
In addition, in early February, parents and students will notice traditional artifacts,donated by the Chinese communities on display. Some of these items will be auctioned and proceeds will go toward enriching school projects supported by the Ridgeview Parent Advisory Council. The auction sight is now live! We encourage our school community and friends to bid on these beautiful items online and in the school library.  Please access here to view items.
Thank you to the small group of committed Ridgeview individuals and their many supporters for spearheading Chinese New Year celebrations at Ridgeview and for decorating the hallways so beautifully. We are hopeful all Ridgeview families will learn about this special celebration via the interactive displays and give generosly at the auction.
For more information and/or if you would like to assist with this celebration, please contact Rylee at ryleeren@gmail.com or Joy at joydaniel76@gmail.com.
Happy New Year!