Current Students
Medical Insurance
To apply to attend one of West Vancouver Schools elementary or secondary schools, please click on the button.
Medical Coverage
Returning students: MSP all the time
New 10-month students: Guard.Me for the first three months, followed by MSP for the rest of the school year
New 5-month students: Guard.Me all the time
---
What are MSP & Guard.Me?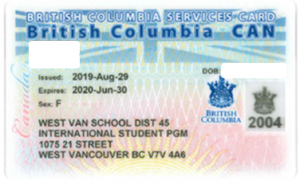 BC Medical Services Plan (MSP)
MSP is the mandatory public health insurance provided by Health Insurance BC for students with a valid study permit.
All 10-month students must provide their study permit to the International  in the beginning of school year.
Always present your MSP card when you visit a clinic or hospital.
Click here for information about the end of MSP coverage.
Guard.Me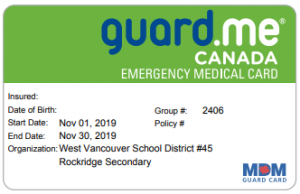 MSP and Guard.Me cards are available for pickup at the International Office.
Any question about medical insurance, please contact International Office.
Clinics
Walk-in Clinics: Please check the medimap website for walk-in clinics on the North Shore and their hours and wait times.
Guard.Me Approved Clinics: If you have Guard.Me insurance, the clinics below help you reimburse medical fees. In other clinics and hospitals, students will need to pay and keep the receipts for online claim submission.
COVID-19 Alert: Please call the clinic before you go.
Healthwise Medical Services
Caulfeild Village Shopping Centre
5375 Headlane Dr, West Vancouver, V7W 3C5
Phone: 604-922-1544
Hours:
Monday to Friday – 8 am to 5 pm
Saturday – 9 am to 4 pm
Healthwise Medical Services – Mount Seymour Medical Clinic
333 Seymour Boulevard, North Vancouver, V7J 2J4
Phone: 604-904-7712
Hours:
Monday to Friday – 9 am to 6:30 pm
Saturday and Sunday – Walk-in Closed
---
Lynn Valley Medical Clinic
Suite 102 -1200 Lynn Valley Road, North Vancouver, V7J 2A2
Phone: 604-988-5389
Hours:
Monday to Friday – 8 am to 6 pm
Saturday and Sunday – 9 am to 6 pm
---
Park & Tilford Medical Treatment Centre Inc.
#1005 – 333 Brooksbank Avenue, North Vancouver, V7J 3S8
Phone: 604-983-2442
Hours:
Monday, Tuesday, Thursday, Friday – 9 am to 7 pm
Saturday and Sunday – 9 am to 1:30 pm
Wednesday- 9 am to 9 pm
---
WELL Health Pemberton Marine Inc.
1256 Marine Drive, North Vancouver, V7P 1T2
Phone: 604-986-0677
Hours:
Monday to Friday – 9 am to 7 pm
Saturday – 9 am to 2 pm
Sunday – 9 am to 5 pm